Contador hearing could be delayed until after Tour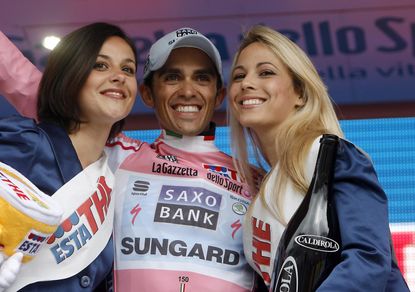 Alberto Contador's hearing at the Court of Arbitration for Sport (CAS) may be delayed until after this year's Tour de France, potentially allowing the Spaniard to ride in the French Grand Tour in July.
The Union Cycliste Internationale (UCI) and World Anti-Doping Agency (WADA) had both appealed to CAS after the Spanish Cycling Federation (RFEC) cleared Contador in February after he tested positive for clenbuterol at last year's Tour de France. The CAS hearing was scheduled to take place in June.
Spanish newspaper AS reports that RFEC has aked for a postponement to the hearing in order for it to submit the necessary supporting documentation to CAS.
This would leave the way clear for Contador to race in the 2011 Tour de France in July - if race organiser ASO allows him to take part.
The Spaniard failed a test for clenbuterol during the final rest day of the 2010 Tour in Pau on July 21. He has blamed the positive on consuming a tainted steak brought by a friend from Spain.
Contador is currently leading the 2011 Giro d'Italia, and looks likely to win the race overall when it finishes in Milan on Sunday.
Related links
Contador clenbuterol case: CAS selects hearing panel
CAS to make Contador decision before Tour de France
WADA appeals against Contador acquittal
UCI to appeal to CAS in Contador case
Contador now cleared of clenbuterol charges
Spanish media claims Contador could avoid ban
Contador could use 'Gasquet's Kiss' theory to back case
Contador says he will fight on despite provisional ban
UCI awaits final Spanish decision in Contador case
Contador tests positive for clenbuterol
Thank you for reading 5 articles this month* Join now for unlimited access
Enjoy your first month for just £1 / $1 / €1
*Read 5 free articles per month without a subscription
Join now for unlimited access
Try first month for just £1 / $1 / €1