Craig family make history on first day of cyclo-cross National Champs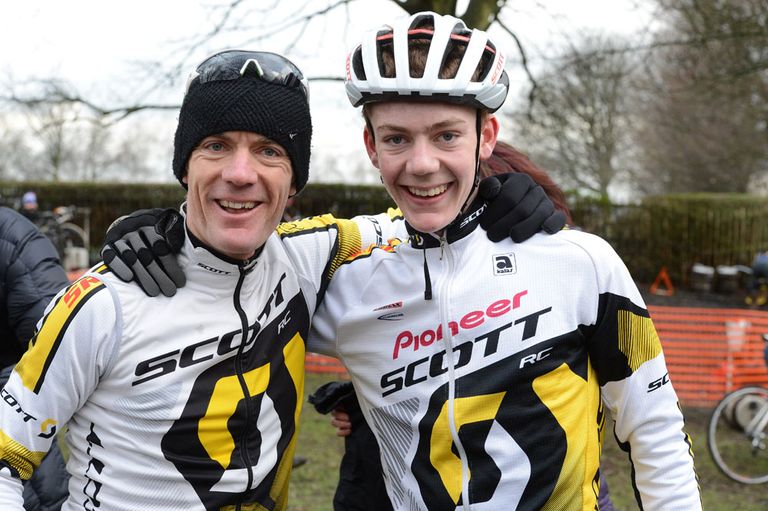 Day one of the 2013 National Cyclo-Cross Championships saw history being made as two members of the same family both won titles for the first time on record.
Nick Craig (Scott UK) won the Veterans Over-40s category, while his son Tom Craig (Scott UK) won the Under-16 Boys championship at Peel Park in Bradford, West Yorkshire.
Craig senior came through quickly to the front of the race despite being gridded on the second row, and he was battling hard with National Trophy Series winner Darren Atkins (Team Jewson).
But in the later stages of lap two Craig got a gap and ploughed on to victory, while his rival Atkins now had to worry about Mike Simpson (GS Henley), and the pair battled for much of the race for the silver medal, which eventually went to Atkins, inches ahead of Simpson.
"You never know with Darren Atkins on the day," said Craig afterwards. "Jim Bryan was obviously not right today, but you never know with those guys. You have to go out there with full respect to those guys, you can't just roll round it."
In other categories there was drama in the Under-14 Boys race, as runaway title favourite Dan Tulett (Hargroves Cycles) snapped a chain at the start.
After running to the pits and being virtually last, he battled back to fourth spot, but missed out on the podium.
The national title went to Lichfield City CC's Harry Yates, who turned in a strong performance and fully deserved his jersey, while Tomos Nesham (Cardiff JIF) took silver.
The over-50 veterans title went to Steve Davies (Hargroves Cycles) who held off Mick Bell (London Fire Brigade CC) to take the title back off him following Bell's 2012 win.
"I had a gap from the first lap," said Davies. "But you can never have enough because if you get a bike problem, you don't want to play percentages on the last lap."
Team Pedal Power's Mick Davies took third, while Pete Harris (Pearce Cycles) took fourth and was crowned over-55 champion.
In other categories, Abby-Mae Parkinson (RST Racing) successfully defended her title in the Under-16 Girls race, while Jessie Roberts (Towy Riders) won the Under-14 Girls race.
Sunday sees the Seniors, women, Under-23s and Juniors in action.
Nick Craig wins the vets over-40 category
Tom Craig wins the under-16s category
Related links
Cyclo-cross national champs 2013 day one photo gallery by Andy Jones