Crawforth edges closer to Oldham in National Trophy cyclo-cross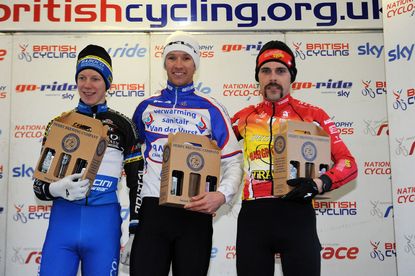 Jody Crawforth (Hargroves Cycles) threw his hopes of retaining the National Trophy Series title a lifeline when he finished as top Brit in round four at Moorways Leisure Centre in Derby on Sunday.
Series leader Paul Oldham has got the better of Crawforth in every round so far, finishing just one place ahead in each of the previous three rounds to open up an 11 point lead in the overall heading into the fourth round on Sunday.
But Crawforth was third across the line at Derby, while Oldham had to battle back from 29th after rolling a tub on the first lap and having to chase to the pits. He battled back bravely to take fifth spot which gave him 33 points, cutting his lead to just four points but it was enough to ensure he remains in yellow.
The Belgians once again dominated the top positions, and Van Der Vurst CT rider Jelle Brakman secured his second win in the Trophy this season, crossing the line ahead of Under-23 talent Floris De Tier (Baboco CT, Belgium) who managed to hold off Crawforth on the final lap.
In other categories, Louise Robinson (Stourbridge CC) won the women's race after steadily pulling away from team-mate Hannah Payton who had led the early part of the race, while Isla Rowntree recovered from a crash to take third and complete Stourbridge's dominance of the podium.
National Champion Hugo Robinson (XRT-Elmy Cycles) was best of the juniors, winning by just 20 seconds from Bradford Olympic's Joe Moses.
And Round Three winner Darren Atkins (Team Jewson) added a second win to his tally at Derby. Second spot went to James Bryan (Zepnat RT), the winner of the first two rounds and still the series leader by virtue of his better minor placings.
Elsewhere, London League leader Sylvain Garde (La Fuga-Sigma Sport) won the tenth round at Penshurst Off-Road Centre in Kent, holding off rival Matt Webb (London Phoenix) by around 20 seconds while VC Moulin's Gareth Jones was third, about a minute off the pace.
South Fork Racing's Matt Loake won the South West League's latest race at Ottery St Mary in Devon, crossing the line about 20 seconds ahead of Elite Velo rival Roy Wyle-Smith.
In the Central League event in Reading, Mike Cotty (Wheelbase) won by 32 seconds from Paul Robertson (Sportstest.co.uk) at Chiltern Edge School, with Peter Kench (GWR Team) taking third, another 20 seconds off the pace.
And in Yorkshire, Endura Racing pro Rob Partridge turned his hand to cyclo-cross and secured victory at Graves Tennis and Leisure Centre in Sheffield.
He was 25 seconds better than Matt Buckingham (Team Cystic Fibrosis), while veteran Marcus Spencer (Hargroves Cycles) took third.
Roger Hammond in action
Women's winner Louise Robinson
Jelle Brakman wins the senior men's event
Series leader Paul Oldham
Thank you for reading 20 articles this month* Join now for unlimited access
Enjoy your first month for just £1 / $1 / €1
*Read 5 free articles per month without a subscription
Join now for unlimited access
Try first month for just £1 / $1 / €1