De Gendt shows GC credentials on Stelvio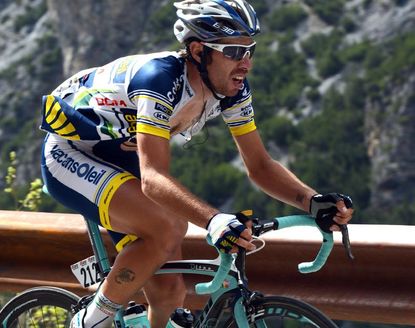 For Thomas De Gendt (Vacansoleil-DCM), there could have been no better stage than the snow-banked theatre of the Passo dello Stelvio to prove his potential as an overall contender in the Grand Tours.
The Belgian, who started the day in eighth position overall and 5'40" down on maglia rosa Joaquin Rodriguez (Katusha), led up the Passo dello Stelvio after his attack on the penultimate climb of the Mortirolo meant he recorded the fastest ascent of the day: just under 47 minutes.
It also meant he came within ten seconds of the virtual race lead with 6km to go on the queen stage's crowning climb.
It was an effort reminiscent of the first time the Stelvio was included in the 1953 Giro, when Fausto Coppi soloed to the summit to claim the pink jersey from Hugo Koblet which he then held all the way to the finish.
Although this year's pink jersey of Rodriguez and his fellow favourites managed to claw back two minutes in the final few kilometres of the Stelvio, De Gendt nevertheless catapulted himself to fourth overall.
"My first thought was just to make sure I had a little bit of a gap at the start of the Stelvio so I coiuld keep my eighth place," De Gendt explained at the finish. "I was scared of [John] Gadret and [Mikel] Nieve since they were very close to me in the GC."
De Gendt will skip this year's Tour de France due to his upcoming wedding and admitted that he was keen to repay his team's flexibility.
"I wanted to give someting back to the team," he added. "They weren't very happy I skipped the Tour but they followed me and my aim to race the Giro and the Vuelta."
He also proved once again to his team that he has a remarkable durability and tenacity in a Grand Tour. He finished an often overlooked fifth on the Alpe d'Huez finish of stage 19 in last year's Tour de France and has a valuable strength against the clock, finishing third in the following day's time trial.
Tomorrow's 31.5km Milan TT gives him a good chance of overhauling the 27 seconds that stand beteen him and
third place Michele Scarponi (Lampre-ISD). However De Gendt's time in pink may have to wait.
"I don't think I'm going to win the Giro. Today and yesterday were very very hard. I think I have a chance for third but Hesjedal will win the Giro, he has a good TT and is not that far behind Rodriguez.
"My goal was a top 10 but it's getting better day by day and I'm happy for it."
Related links
Cavendish misses out on Giro red jersey by one point
De Gendt conquers Stelvio to win Giro stage nineteen
Thank you for reading 20 articles this month* Join now for unlimited access
Enjoy your first month for just £1 / $1 / €1
*Read 5 free articles per month without a subscription
Join now for unlimited access
Try first month for just £1 / $1 / €1