Dempster win moves Endura closer to Tour Series victory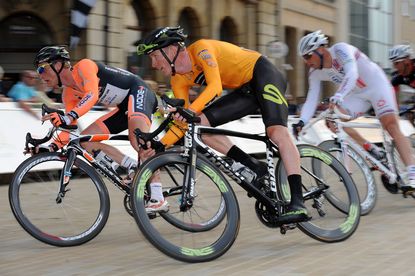 Australian Zak Dempster sprinted to victory in Canary Wharf last night to nudge Endura Racing one step closer to their first Tour Series crown.
Dempster won from a strong four-man group who broke clear late on, and with top-10 finishes from Scott Thwaites and Russ Downing, the series leaders returned to winning ways to take the all-important team prize on the night.
World champion Mark Cavendish and former Endura rider Rob Hayles were among those who watched the action unfold last night, and the Sky rider played a part in handing out the various prizes on the podium post-race.
Mike Northey took second for Node4-Giordana, with his Aussie team-mate Rico Rogers in sixth to help Malcolm Elliott's team finish as the round runners-up.
Rapha-Condor-Sharp had Andy Tennant in the break, and while he took fourth and Ed Clancy won the bunch kick for fifth, the defending champions had to settle for third. Having closed the gap to Endura to nine points after Tuesday's round in Peterborough, they remain in second overall, but are now 11 points adrift.
UK Youth's strong run continues, as fast-finisher Chris Opie finished third behind Dempster and Opie. Winners in Aberystwyth, they remain hot on the heels of Rapha on the overall standings. Yanto Barker also took the round win in the Boardman Bikes Sprints competition.
It was another good night for CyclePremier-Kovert, who were active throughout and had Stephen Adams come home in eighth. They beat Tuesday's winners Raleigh-GAC and IG-Sigma Sport, and now lead the latter on the team standings by six points.
One positive for Raleigh is that Bernie Sulzberger still leads the Boardman Bikes Sprints competition going into Tuesday's eighth round in Torquay. Metaltek-Scott's Marcel Six remains in second.
Further down the rankings, Hope Factory Racing delivered arguably their best display to finish eighth, and closed the gap to Herbalife-LeisureLakesBikes in the battle for ninth overall.
Results

Team result, Halfords Tour Series 2012, round seven: Canary Wharf

1. Endura Racing 10pts

2. Node4-Giordana 9pts
3. Rapha-Condor-Sharp 8pts
4. UK Youth 7pts
5. CyclePremier-Metaltek 6pts
6. Raleigh-GAC 5pts
7. IG-Sigma Sport 4pts
8. Hope Factory Racing 3pts
9. Metaltek-Scott 2pts
10. Herbalife-LeisureLakesBikes 1pt
Individual result

1. Zak Dempster (Endura Racing)

2. Mike Northey (Node4-Giordana)
3. Chris Opie (UK Youth)
4. Andy Tennant (Rapha-Condor-Sharp)
5. Ed Clancy (Rapha-Condor-Sharp)
6. Rico Rogers (Node4-Giordana)
7. Scott Thwaites (Endura Racing)
8. Stephen Adams (CyclePremier-Kovert)
9. Russ Downing (Endura Racing)
10. James Stewart (UK Youth)
Overall team standings after round seven

1. Endura Racing 66pts

2. Rapha-Condor-Sharp 55pts
3. UK Youth 53pts
4. Raleigh-GAC 50pts
5. Node4-Giordana 49pts
6. CyclePremier-Kovert 34pts
7. IG-Sigma Sport 28pts
8. Metaltek-Scott 18pts
9. Herbalife-LeisureLakesBikes 16pts
10. Hope Factory Racings 14pts
Boardman Bikes Sprints winner
1. Yanto Barker (Team UK Youth)
Boardman Bikes Sprints standings after round seven

1. Bernard Sulzberger (Raleigh-GAC) 65pts
2. Marcel Six (Metaltek-Scott) 55pts
3. Kristian House (Rapha-Condor-Sharp) 32pts
Related links
Halfords Tour Series 2012: Cycling Weekly's coverage index
Thank you for reading 20 articles this month* Join now for unlimited access
Enjoy your first month for just £1 / $1 / €1
*Read 5 free articles per month without a subscription
Join now for unlimited access
Try first month for just £1 / $1 / €1