Download your 2023 mileage chart and track your riding
You might have a Strava account, but you can't stick that to the fridge and look at it every morning when you're eating your cereal.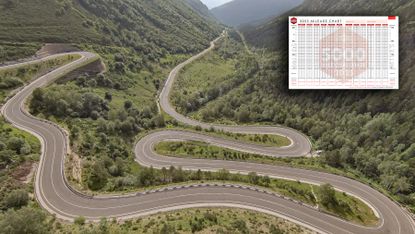 (Image credit: Kevin Poulot)
Want to keep your annual mileage in one handy place? Fed up with scrolling through your phone trying to work out your monthly totals? Then look no further than our annual mileage chart that is printed in the first issue of Cycling Weekly magazine each year.
Colouring in or marking off your riding on a piece of paper might sound like an analogue approach to tracking your riding in a digital world, but it still works, and it still delivers instant satisfaction.
>>>>Download your 2023 mileage chart here
Cycling Weekly readers have been filling in their mileage charts since the 1920s and despite the tech now at their fingertips, they were still filling them in throughout 2022. Many of the riders taking on our 5,000 mile riding challenge still log miles on their charts alongside their apps and send them in at the end of the year as proof of their mileage.
This chart, sent in by Martin Holmes might not be the most colourful, but what it lacks in aesthetics it makes up for in miles. With five weeks with over 300 miles and an annual total of 10,846 Martin is one of the CW5000's big mile munchers. And one of just 22 participants who made it into the 10,000 mile hall of fame.
The chart used to go up to 450 miles a week, but we've never seen one where that total was reached, so we cut it down.
This chart, sent in by Andy Gaul is one of our favourites. Not only has he digitised it he's added his elevation gain and hours on the bike.
So download your chart and get filling in, we guarantee that watching it fill up week by week will give you motivation to carry on. Good luck with your riding in 2023!
Thank you for reading 20 articles this month* Join now for unlimited access
Enjoy your first month for just £1 / $1 / €1
*Read 5 free articles per month without a subscription
Join now for unlimited access
Try first month for just £1 / $1 / €1