Former Armstrong team-mate Barry: 'Doping had become an epidemic problem'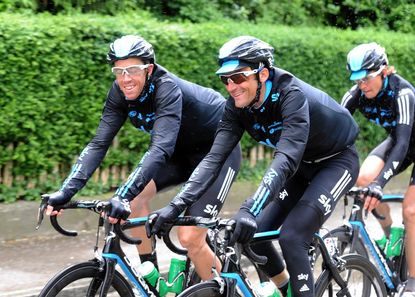 Former Team Sky rider Michael Barry has joined George Hincapie in admitting to doping during his time at the US Postal team with Lance Armstrong.
In a statement issued on Wednesday just after the United States Anti-Doping Agency published a summary of the evidence collected in its investigation into doping at US Postal, Barry said: "Cycling has always been a part of my life. As a boy my dream was to become a professional cyclist who raced at the highest level in Europe. I achieved my goal when I first signed a contract with the United States Postal Service Cycling team in 2002. Soon after I realised reality was not what I had dreamed. Doping had become an epidemic problem in professional cycling."
"I crossed a line I promised myself and others I would not: I doped. It was a decision I deeply regret. It caused me sleepless nights, took the fun out of cycling and racing, and tainted the success I achieved at the time. This was not how I wanted to live or race."
The Canadian was one of 11 former team-mates of Armstrong that gave evidence to USADA during its investigation.
Barry announced his retirement from professional cycling on September 9 via the Team Sky website. He cited that it was time to "change direction to spend more time with my family." Now, he faces possible sanctions after admitting to doping during his career.
"I apologise to those I deceived," said Barry in his statement. "I will accept my suspension and any other consequences. I will work hard to regain people's trust."
Like Hincapie, Barry said that he stopped doping after the summer of 2006 - his final year at US Postal before joining T-Mobile in 2007, and then Sky in 2010. There is no suggestion that Barry doped at either T-Mobile or Sky.
Related links
Hincapie admits to doping during career
USADA publishes details of Armstrong doping case file
Thank you for reading 20 articles this month* Join now for unlimited access
Enjoy your first month for just £1 / $1 / €1
*Read 5 free articles per month without a subscription
Join now for unlimited access
Try first month for just £1 / $1 / €1