Gold and silver for Great Britain on day four of track worlds
Archibald and Nelson dominate the women's Madison while young Jack Carlin rounds out an impressive week with another silver.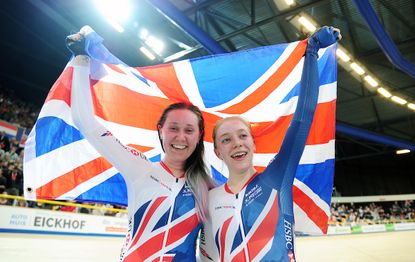 Katie Archibald and Emily Nelson dominated the women's Madison to run out comfortable winners at the end of the 120 lap race. The pair won eight sprints in a row to build a big lead over the Netherlands who had no answer to the pair's speed.
For Archibald it was a return to form after she pulled out of the women's omnium yesterday, while for Nelson it was a first senior world title. "It's pretty amazing. It's going to take a while for that to sink in." Nelson said. "It was a really hard race and we led for pretty much all of it. It was about trying to keep hold of that lead and make sure no laps went."
The pair were in a group of five nations that slipped away early on to gain a lap but also won sprints two through to nine to steadily build up their lead. Even two time world champ Kirsten Wild (Ned) had no answer despite the vocal backing of the home crowd.
"We compliment each other and we've been talking about what we want from a Madison partnership."Archibald said. "We've both got good top end speed and a long sprint, so we were putting ourselves in positions we knew we could cope with ourselves."
The sprinting however can take it's toll as the race progresses and it's a fine balance of winning points while leaving something in the tank should other teams start attacking to get the all important lap gains.
It was soon clear that few teams were strong enough, or technically good enough, to take laps, but the risk of a team getting away unnoticed is always present."I looked up with 84 laps to go and thought, 'oh god!' If it was down to lap gains that's not really our bag. If it had gone bang we would have struggled." Admitted Archibald. "I'm really pleased with how we rode it. Like any race we'll go back and look at it. But we ripped the *rse out of it."
As comfortable as the victory looked from trackside, the pair started the race in a bit of a panic. "I popped two skin suits trying to get them on." Archibald said. "I don't know what Christmas has done, but I'm in a skin suit two sizes bigger than usual." Nelson also had some issues with her helmet, all of which delayed them getting on track which saw them start at the back and chase the race from the gun.
Britain's stand out performer of the week, Jack Carlin won his second silver with a battling performance in his first senior men's sprint competition at this level. The 21-year-old Scot knocked out multiple world champions Maximilian Levy (Ger) and Edward Dawkins (NZl) on his way to the final where he met Australia's Matthew Glaetzer.
Carlin's biggest competition before Apeldoorn had been a world cup and after going down 2-0 to Glaetzer admitted to being outclassed by a faster, more experienced rider. He didn't go without a fight however. In their second race, Carlin, riding below Glaetzer held his opponent high up the banking (so as not to give him an advantage when dropping down the track) despite the Australian trying to move him down the track. The pair bumped shoulders throughout the race, but Carlin didn't give an inch.
"I like the old fashioned [style of sprinting I don't see why we should shy away from it, we're all grown-ups." He said afterwards.
The sprint final was Carlin's 12th race of the week after three rounds of the team sprint and keirin and six races, including qualification, in the individual sprint. An impressive load for a young sprinter. "I was really surprised with how well I coped with it, we're looked after so well by all the staff, doing everything for us, that really helps."
It had however taken it's toll. Carlin had to take some time after the medal ceremony before talking to the press. "I was very close to throwing up during the [medal] presentation. Throwing up during the Australian national anthem probably wouldn't have gone down well with the Commies coming up in three weeks."
Ryan Owens finish seventh in the sprint after being knocked out in the quarter finals.
Thank you for reading 20 articles this month* Join now for unlimited access
Enjoy your first month for just £1 / $1 / €1
*Read 5 free articles per month without a subscription
Join now for unlimited access
Try first month for just £1 / $1 / €1