Hannah Barnes looking forward to American move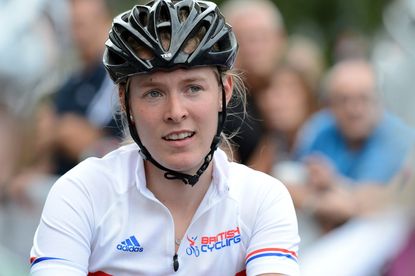 After dominating the British scene in 2013, Hannah Barnes will test herself across the Atlantic next year after securing a ride with the American UnitedHealthcare team.
Barnes will be linking up with compatriots Sharon Laws and DS Rachel Heal at the new US-based squad, and will move from Northamptonshire to North Carolina.
The 20-year-old rider enjoyed success throughout this season, particularly in criteriums, and happily, the USA has a thriving circuit race scene. In particular, there is the 16-round, season-long National Criterium Calendar which includes high-profile events in Las Vegas and Boston.
"The nature of racing in America should suit me," explained the three-time national circuit race champion. "To live and race in America is a really exciting prospect."
Barnes found out about her new direction in September, but despite her impressive palmarès, admitted that she was unsure whether or not she would land a big move.
"Everyone was saying to me that I deserved a pro contract, but until you actually get an offer, it's an uncertain time for you," said Barnes.
"I sent my CVs out in the middle of the year to a few teams, and it's scary because you never really know how much interest there will be in you."
Barnes's visit to Arizona for the team's training camp at the start of December will be her first trip outside Europe, and she will permanently relocate to the USA in January.
"There's a team house that I'll be moving into, so I'll be well looked after," she explained. "I'll probably have to pack everything I've got, but that can wait for now!"
Despite the predominantly American-focused schedule, UHC are hoping to occasionally ride in Europe, with Barnes hopeful that they will be selected for the Women's Tour in Britain next May.
"It starts in my home county [of Northamptonshire], so it's one race I really hope we get to ride - especially if that first day is flat, too," she said.
Living in America
British rider Emma Grant rode for American team Optum Pro Cycling in 2012 and was also based in North Carolina. Here, she recalls her time in the USA:
"I had heard about the racing over there and any pictures of it I'd seen looked great. I think the racing scene in American suits all-rounders. Yes, there's a big crit scene out there, but they put on a lot of stage races, too.
"There's the National Racing Calendar series and that's really tough. If you're an all-rounder you'll do well, as will climbers. There are races like the Tour of the Gila, in New Mexico, which takes place at altitude and has some crazy climbs. There's the Cascade [Cycling Classic] in Oregon, too, which also has some long climbs.
"You can get out there and get on a pro team, they will really look after you. Even if that's as far as you want to go, being based in the USA means you can have a really great career.
"It's hard for the riders based over there for the majority of the year to come back to Europe, because the racing is so different. It's more aggressive in the USA, so I think they find it quite a shock [coming back]. It's difficult to make the transition, especially with the smaller size of the roads and the peloton.
"The travelling last year really wore me down, and I wanted to be in the UK because I'm still studying to go to university, which is why I came back. Next year I'm keen to go out there again. I don't have it all sorted yet, though!"
Thank you for reading 10 articles this month* Join now for unlimited access
Enjoy your first month for just £1 / $1 / €1
*Read 5 free articles per month without a subscription
Join now for unlimited access
Try first month for just £1 / $1 / €1
Nick Bull is an NCTJ qualified journalist who has written for a range of titles, as well as being a freelance writer at Beat Media Group, which provides reports for the PA Media wire which is circulated to the likes of the BBC and Eurosport. His work at Cycling Weekly predominantly dealt with professional cycling, and he now holds a role as PR & Digital Manager at SweetSpot Group, which organises the Tour of Britain.