Harris looks to top step at European 'cross champs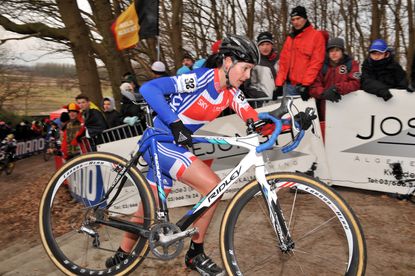 The pairing of Nikki Harris and Helen Wyman go into the European Cyclocross Championships in Ipswich this Saturday with the best chance in recent years of claiming top step on the podium for a British rider.
Wyman is on fine form after finishing second at last weekend's World Cup round in Plzen, Czech Republic, and won her second Koppenbergcross on Thursday.
One place behind her on both occasions was Nikki Harris, who is enjoying her most successful start to a cyclocross season, picking up a World Cup podium and her first win on the continent.
"Everything has happened quicker than I expected it to this year," she told CW after she had been for a ride around the Ipswich course on the eve of the race. "Now I've had to change my goals slightly and have a bit more confidence in races that I can be one of the top girls."
The women to beat on the continent this season have been Sanne Van Paassen (Netherlands) and Katie Compton (USA), but with the latter missing from this weekend's championships the opportunity is ripe for Harris and Wyman to dictate the race on home turf.
"There is no reason why Nikki and I can't do one over on Sanne Van Paassen," Wyman explained to CW earlier this week. "We're really good, and we're capable of doing it. But we need to work her over like the Dutch riders normally do with us."
"There are a few girls that can get on the podium," Harris added, playing down the possibility of the Brits working in tandem. "Obviously there are tactics involved but I'm just going to concentrate on having a good race. We both really want to win it, so we'll have to see."
Harris has come in to the season with added confidence and motivation, in particular after a fourth place at the national road race championships in June and a strong ride at the road world championships in September.
"I train a lot with Matt [Brammeier] and a few of his other team mates too. They're so much stronger than me that I'm always on the back foot and trying to keep up with them.
"Some of them are quite surprised. I think Ciolek said to Matt, 'your girlfriend's not bad! Why is she still here on a climb!'
"I haven't really started my top end training yet so hopefully I can keep topping it up and keep improving."
Both riders will have plenty of family and friends down for the race on home soil, adding extra pressure to a race they both dearly want to win.
Another rider who will feel the pressure is local boy Hugo Robinson, who goes in the U23 race at 12:30pm, after junior sensation Mathieu Van Der Poel (Netherlands) has kicked things off in the junior race at 11:00am.
The weekend of 'cross concludes with the second round of the National Trophy this Sunday.
European Cyclocross Championships 2012
Where: Chantry Park, Ipswich
When: Saturday November 3, European Championships
11:00am: Junior race
12:30pm: U23 race
14:00pm: Elite women's race
Sunday November 4, National Trophy Round Two
Related links
IPCROSS (organising website of the European Championships - external link)
Wyman leads British one-two at Koppenbergcross
Wyman and Harris on podium in 'cross World Cup
Thank you for reading 20 articles this month* Join now for unlimited access
Enjoy your first month for just £1 / $1 / €1
*Read 5 free articles per month without a subscription
Join now for unlimited access
Try first month for just £1 / $1 / €1