How to find your new adventure with komoot
Open your cycling world with Collections and Highlights from the navigation app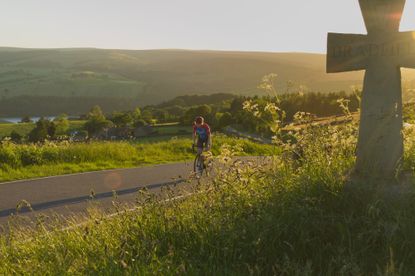 (Image credit: Komoot)
Promotional feature with komoot
Let komoot open your cycling world and help you find new adventures with its Collections and Highlights.
A komoot Collection is a curated list of Tours (komoot's term for routes), many of which have been created by komoot's widespread network of adventurers who know their local roads and trails inside out, such as pro rider Lizzy Banks who, as well as riding for Ceratizit-WNT Pro Cycling, loves using her bike to explore new places and sharing the Highlights she finds.
Lizzy's latest Collection is around the Hope Valley in the Peak District, where she has shared seven secret climbs and 7 matching komoot Tours, each taking in at least one of her hidden climbs. Lizzys says "If you're spending your holiday in the Hope Valley, this Collection gives you a ride for every day of the week, exploring the best bits but without the hassle of the busy roads and the traffic."
The climbs in her Collection include: Abney Climb, Pindale Quarry and Brough Lane gravel climb - which Lizzy says is an "absolute lung busting leg ruiner of a climb. Starts on draggy tarmac of fairly intense gradient and then switches to fire road style surface". Abney is her favourite climb of all time, and considering Lizzy has ridden all over Europe, this is quite something to have in the UK!
"The Abney Valley is truly stunning and a real secret gem of the Hope Valley. Right at the top of the climb is Derbyshire Gliding Club. On the right day you can catch gliders setting off and swirling around in the air above. One of my most favourite things is to come to the top of this climb and watch the gliders fly, it's really quite magical." Sounds like an ideal place to have a stop off, sit back and enjoy!
Throughout the Collection, Lizzy shares with you her local expert knowledge on not only the Climbs, but also her insights into the Tours themselves and why she enjoys riding them so much.
Don't think that komoot is just for roadies either as Lizzy, like many others on komoot, has got you gravel riders covered. As Lizzy says herself in her 25 mile 'adventure loop.'
"If you brought your adventure bike on holiday with you then this has got to be a bucket list ride for you!"
Here is the Hope Valley Collection on komoot:
This is the Brough gravel climb:
And here is the Abney climb:
Komoot Collections often showcase a multi-day adventure or are centred around a theme, such as gravel or road biking, or a place like the Lakes or the North Yorkshire Dales. You can find Collections by scrolling the komoot Discover feed, or you can search for them by clicking on 'Find Your Next Adventure'. Bookmarking Collections you want to explore saves them to your profile, making them easy to find, or save individual Tours and if needed customise using the komoot route planner.
Komoot lets you turn any ride into a new adventure, one way to do this in the app is to tap into community recommendations, known as Highlights on komoot. All the hidden climbs in Lizzy's Collection are shared as komoot Highlights, if you want to make your own tour around the Peak District, you can easily add in Pindale Quarry climb, for example, as a Highlight on your own adventure.
Highlights are the gateway to your inspiration for your next cycling adventure, you don't even have to be heading far from home, you can search for and add these Highlights to your regular rides and discover something you may never have known about before. Highlights include any place that the community thinks is worth knowing about – a great cafe, a beautiful climb, an enjoyable segment of road or trail or the perfect wild-camping spot. These recommendations often come from local cyclists in the area.
If you already have a route planned or while planning a route, you can look for Highlight (small red dots on the route planner map) near your route. Click to open them, browse the pictures, and read the tips. If it looks like a place you want to see or an unmissable segment of road, simply click 'add to route', to adjust your route to include it.
A sneaky tip to the Highlights is don't limit yourself to your chosen cycling sport type – komoot is for more than just cyclists, hikers and runners use it too. Meaning there might be a killer coffee stop or a great gravel trail which you can explore if you open your search up. The joy of komoot is sharing experiences with each other and discovering hidden gems.
You can create your own highlights when you're saving your completed Tour – you can also add photos and write a short description of the Highlight, including any tips you have for visiting. Or add your photos and tips to the Highlights you passed or visited on your ride, adding a greater depth of knowledge and enriching the experiences of fellow riders.
>>> Rediscover your area with Komoot
Komoot builds a community for riders to share their experiences and knowledge, whether that's from pro riders like Lizzy, or any one who has such an in-depth knowledge of their local area.
Thank you for reading 20 articles this month* Join now for unlimited access
Enjoy your first month for just £1 / $1 / €1
*Read 5 free articles per month without a subscription
Join now for unlimited access
Try first month for just £1 / $1 / €1