ITV4 to air new cycling show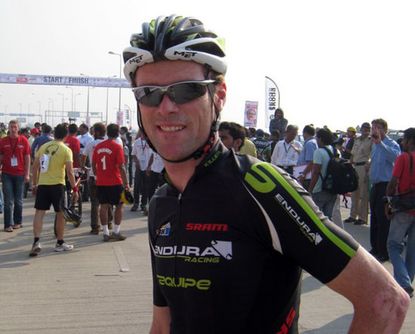 Cycling in Britain has truly arrived: it's going to get its own television show. ITV4 is broadcasting an eight-part 'cycling-based chat show' starting from Monday, July 23.
Graham Little will present The Cycle Show with assistance from Rob Hayles and Anna Glowinski. The programme will be filmed at the Look Mum No Hands! cyclists' cafe in Old Street, London, which has hosted a couple of Eurosport's post-Tour de France analysis shows over the past couple of weeks.
The show's producers, Century TV, say that it will 'follow the latest cycling news and includes features with a two-wheeled theme, from Top Gear style challenges to technical features'.
A 'Rolla Sprint Challenge' will be included in each show. Similar in style to Top Gear's 'Star in a Reasonably Priced Car', the segment will put a well-known person onto the rollers to see how fast they can pedal. Eddy Merckx, Nigel Mansell, Wayne Hemingway, Graham Obree and Gary Kemp have apparently signed up.
"We feel that there is a real gap in the market for a programme such as this and we're looking forward to getting the show underway," said Century TV managing director Rohan Browning.
"ITV4 are an ideal partner for a programme such as this and it will really complement their cycling portfolio."
The Cycle Show kicks off at 8pm on Monday and will be repeated on Saturdays at 5.30pm. The show is supported by retailer Chain Reaction Cycles.
ITV4 has a growing portfolio of cycling shows, which have included the Tour de France, Vuelta a Espana, Tour Series and Tour of Britain in the past year.
The Cycle Show has its own Twitter account, website and Facebook page where you can find out more.
Thank you for reading 20 articles this month* Join now for unlimited access
Enjoy your first month for just £1 / $1 / €1
*Read 5 free articles per month without a subscription
Join now for unlimited access
Try first month for just £1 / $1 / €1