Jason Kenny crowned world sprint champ as Bauge is banned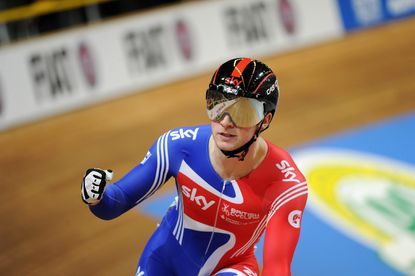 Jason Kenny has been crowned 2011 world individual sprint champion following a retrospective ban imposed on Frenchman Gregory Bauge.
Bauge beat Kenny 2-0 in the gold medal final in Apeldoorn last March, but following a decision by the Fédération Française Cyclisme on November 8 to ban Bauge, the result has now been amended by the UCI.
It is Kenny's first world title. The young Brit is Olympic champion in the team sprint, but until now had never won a world title.
Sir Chris Hoy has moved up from the bronze medal position to silver. The French team has also been disqualified from the team sprint, in which they won gold. Germany move up to gold, Great Britain to silver and Australia to bronze.
Bauge missed one test and twice 'breached applicable requirements regarding rider availability' within an 18 month period, and has now been given a one-year back-dated ban from December 23, 2010 to December 22, 2011 by his national federation.
The decision by the French federation went largely un-noticed at the time, and when Bauge pulled out of the Cali world cup on Nov 30, staff on the French team told others that it was down to a back injury.
Kenny had not been informed of the decision before the UCI sent out it's press release today, so learnt of his victory when Cycling Weekly confirmed the news with his coach Iain Dyer. Kenny was midway through a three hour track training session when the amended result was confirmed, this coming after a two-hour gym session in the morning.
Although Kenny won't get to enjoy the plaudits that come from standing on the top step of the podium, the decision does help GB in the Olympic sprint qualification process. He will be given the gold medal and world champions jersey, although the UCI's track coordinator, Giles Peruzzi was unsure as to exactly how that would happen.
Bauge, who also won the 2009 and 2010 world sprint titles will be free to compete at the Beijing world cup next weekend, the world championships in Melbourne this April, and the London Olympics.
Sir Chris Hoy was the last Briton to win the men's individual sprint world title at the Manchester track worlds in 2008. Previous to Hoy, Reg Harris was the last Briton to win the title in 1954.
Related links
Jason Kenny: Rider Profile
Thank you for reading 20 articles this month* Join now for unlimited access
Enjoy your first month for just £1 / $1 / €1
*Read 5 free articles per month without a subscription
Join now for unlimited access
Try first month for just £1 / $1 / €1