Jason Queally makes successful return to team sprint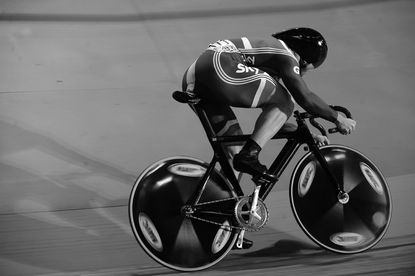 Jason Queally is back in the team sprint, and back to winning ways. The 41 year old blew away the cobwebs, riding alongside Chris Hoy and Jason Kenny to national men's team sprint victory.
Matt Crampton anchored the qualifying heat, before Queally came in as man three and then man two for the final.
He was disappointed with his splits afterwards, but this has to go down as a succesful and intriguing return to top-level action for the Sydney 2000 gold medallist.
He retired from the sport after failing to make it into the 2008 Olympics side. There have since been returns to the fray as a Paralympic pilot and team pursuiter before this return to the team sprint was announced in March.
After an unspectaclar championships, Jason Kenny ended on a high with a pleasing lap one time in qualification, while this was the third national title in as many days for Sir Chris Hoy too. "All the objectives so far, in terms of time, have been better than expected," he said.
However, the trio had to come from behind, as Ross Edgar fractionally put the rival team in front, clocking 17.74 to Kenny's effort and earlier setting a new PB for his first lap.
In qualifying, the trio of Jody Cundy, Jon-Allan Butterworth and Terry Byrne also slashed the Paralympic world record with a time of 48.711, beating the existing mark by eight hundreths of a second and bringing the crowd to its feet.


Women's team pursuit
The Horizon Fitness trio of Joanna Rowsell, Sarah Storey and Dani King were in imperious form. After qualifying fastest, they caught rivals Motorpoint before halfway for a comfortable victory.
"We went out with a six-lap plan and executed it," Rowsell said.
All three are past or current world champions in an event where Britain
have a startling strength in depth - there are eight riders going for
the all-important three places.
Their opening kilometre was quicker than world record pace, and the team pursuit stalwart also spoke of their aim to break that standard this winter: "We were very close at the Manchester World Cup this year, with three riders going well, I'm sure it'll happen soon."


Men's omnium
Jon Mould added his second title of the championships in the men's omnium, finishing narrowly ahead of Academy teammate Simon Yates.
The Welshman won the devil and the 250-metre time-trial. However, he had to be vigilant to the last, following Yates across the line in the scratch race, to make sure of victory.
With numerical advantage and the ability of their individuals, the competition was dominated by 100% ME and scienceinsport.com.
Women's Madison
The madison came down to the wire, as Motorpoint teammates Lucy Garner and Harriet Owen beat defending champions Hannah Barnes and Hannah Walker.
It was a close battle. Last year's winners roared into the lead, but Garner and Owen flew back, leapfrogging them and executing a fine change-over on the penultimate lap to make sure of victory.
Ten days after claiming the junior rainbow jersey, golden girl Garner now has a senior national title to enjoy, alongside close friend and fellow ODP rider Owen.


Women's keirin
First the sprint, now the keirin for Becky James. In the final, the Welshwoman surged with two laps to go, and her rivals weren't strong enough to get past.
Usual opponents Victoria Pendleton and Jess Varnish were both missing from action though; Varnish solely focusing on training for a standing first lap, Pendleton in the middle of an intensive series of strength training.
Results

Men's team sprint

1. North West Region A 44.262

Sir Chris Hoy, Jason Kenny, Jason Queally, Matt Crampton

2. North West Region B 44.678
David Daniell, Ross Edgar, Peter Mitchell
3. North West Region C 45.019
Kian Emadi, Phil Hindes, Lewis Oliva, Liam Phillips
4. Scienceinsport.com 47.113
Andrew Kelly, Matt Rotherham, Miles Stovold
5. City of Edinburgh RC 47.143
Kenneth Ayre, Bruce Croall, John Paul
Women's keirin

1. Becky James (Abergavenny RC)

2. Jessica Crampton (Sport City Velo)
3. Victoria Williamson (Welwyn Wheelers)
4. Emma Baird (City of Edinburgh RC)
5. Cassie Gledhill (XRT Elmy Cycles)
Team pursuit

1. Horizon Fitness

Sarah Storey, Dani King, Joanna Rowsell

2. Motorpoint
Lucy Garner, Harriet Owen, Hannah Barnes
3. For Viored Brookvex
Rohan Battison, Hannah Manley, Amy Roberts
4. VC St Raphael A
Marianne Britten, Ella Hopkins, Hannah Layland
5. VC St Raphael B
Eleanor Jones, Adel Tyson-Bloor, Harriet Whewell


Women's madison

1. Lucy Garner and Harriet Owen (Motorpoint)
2. Hannah Barnes and Hannah Walker (Motorpoint)
3. Hannah Manley and Amy Roberts (For Viored)
4. Ella Hopkins and Hannah Layland (VC St Raphael)
5. Kayleigh Brogen and Charline Joiner (City of Edinburgh RC)


Men's omnium

1. Jon Mould (100% ME) 7pts
2. Simon Yates (100% ME) 8pts
3. Adam Yates (Scienceinsport.com) 17pts
4. Alistair Rutherford (Scienceinsport.com) 18pts
5. Joe Kelly (100% ME) 25pts


Related linksNational Track Championships 2011: day four round upNational Track Championships 2011: day three round up
National Track Championships 2011: day two round upNational Track Championships 2011: day one round up
Thank you for reading 20 articles this month* Join now for unlimited access
Enjoy your first month for just £1 / $1 / €1
*Read 5 free articles per month without a subscription
Join now for unlimited access
Try first month for just £1 / $1 / €1