Jens Voigt gives insight into Cavendish's form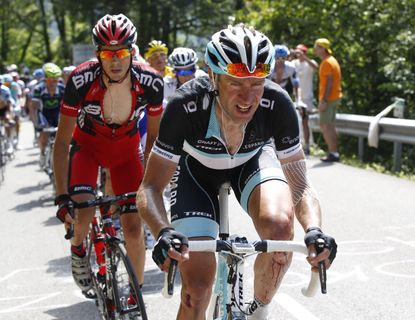 Jens Voigt tweeted in awe of Mark Cavendish as the British sprinter put in a stunning performance on stage three to retain his ZLM Toer leader's jersey.
Cavendish won the race overall today (his first ever stage race win), but it was yesterday's performance, over the hills of the Ardennes made famous by Liege Bastogne Liege, that cemented his win and impressed Voigt.
On Sunday morning, the day after stage three, that went over the climb of La Redoute among others, Voigt tweeted; "Had an eyeopening experience yesterday in that hilly stage. Was like a little Liege Bastogne."
"We are on the famous La Redoute climb and two of my teammates just attack and went off the front. Of course some counter attacks behind...."
"I try to keep them in check and its pretty sticky already, and there is five riders just ahead of me, and then I look to the side and guess what???"
"I see the world champion Mark Cavendish in his yellow jersey shifting two gears bigger and just jumping to the counter attack, totally easy!!!"
"I could see how Cav thought 'I know I am supposed to be a sprinter but I don't care!!" and he crossed the hill top in first place. I mean the biggest names in cycling used to fight and suffer with this hard and famous climb and then Cav comes along."
"Cav totally made this climb his bi..attach, I was sooo totally impressed to eyewitness that!! He is a champ, and watch out for him at the Olympics."
Cavendish rode the four day stage race instead of the Tour de Suisse that he normally favours as his Tour preparation. Eyebrows were raised on stages one and two when first Marcel Kittel and then André Griepel got the better of Cavendish in the sprints.
But the overall win, plus the stories of Cavendish being leaner than ever before, suggests the Sky rider is focusing on the Olympic road race that boasts a similarly lumpy profile to parts of the Ster ZLM Toer.
Can Cavendish turn himself into a classics style rider in a few months? And will it compromise his turn of speed that has brought him so many wins? We will find out in two weeks when the Tour de France starts in Belgium.
Thank you for reading 20 articles this month* Join now for unlimited access
Enjoy your first month for just £1 / $1 / €1
*Read 5 free articles per month without a subscription
Join now for unlimited access
Try first month for just £1 / $1 / €1