1 GOLD, 3 SILVER, 1 BRONZE – OPENING NIGHT IN BEIJING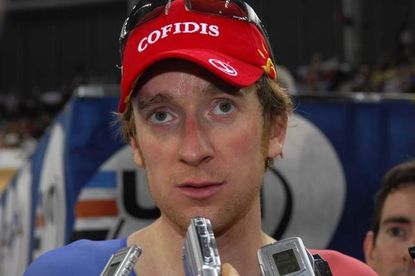 The slow start in Sydney a week ago is now a distant memory after Britain?s riders came storming out of the blocks on the opening night in Beijing.
British riders won medals in all the events they entered ? with gold for Bradley Wiggins in the individual pursuit, silver for Victoria Pendleton, Chris Newton and Rebecca Romero and bronze for the team sprinters.
?That was more like it,? said performance director David Brailsford.
But he said that he feels there's still much more to come and that when the team returns to the LaoShan velodrome in August the British will be at their peak.
"I'm really optimistic across the board because although the results are good we're still a long way from full gas and there's a lot of room for improvement. We've done this off the back of winter base training."
Riding for T-Mobile, Wiggins was expected to win the individual pursuit and after doing a 4-22 in qualifying and a 4-25 in the final against Ukraine?s Volodymyr Dyudya, he?ll know he?s on course for the Olympics, but that there?s a lot more to come.
Victoria Pendleton, who showed tremendous powers of recovery to take the Keirin after a disappointing quarter-final exit from the sprint in Sydney at the hands of Natallia Tsylinskaya of Belarus, stepped up another level.
After cruising through to the final she came up against Tsylinskaya, and again lost in two straight races.
Rebecca Romero is another who enjoyed a much better night than last week. After finishing eighth in Sydney she set the second fastest qualifying time today to earn a ride against Katie Mactier of Australia in the final. The Aussie had a little too much but a silver medal for Romero was a fine result.
Chris Newton (Recycling.co.uk) raced aggressively throughout the points race to secure a silver and take a huge step towards qualification for the Olympic Games.
And the team sprint trio of Chris Hoy, Craig MacLean and Jason Queally grabbed bronze against Team Toshiba after being edged out of the gold medal race by the Dutch and the French.
BRITISH MEDAL COUNT SO FAR: 1 Gold 3 Silver 1 Bronze
Swipe to scroll horizontally
Gold Bradley Wiggins (T-Mobile)
Silver Volodymyr Dyudya (Ukraine)
Bronze Alexander Serov (Russia)
The Brits
Bradley Wiggins (T-Mobile) was fastest in qualifying, clocking a 4-22 when put up against Spaniard Toni Tauler in qualifying. Steve Cummings (Great Britain) was 11th. True to form, Wiggins clinched the final, starting steadily but winding it up and reeling in the Ukrainian Dyudya.
Brailsford said: "Brad did very well to win it off the back of very little specific training. That was his first individiual pursuit since the World Championships in Majorca. He flew out to Sydney and then to Beijing and he's not had a lot of time to practice. He rode his opponent in the final and really turned on the turbo in the last three laps. The thing about Brad is that his pace-setting is so good. Whatever level of form he's at, he knows exactly how to pace it."
Swipe to scroll horizontally
WOMEN?S INDIVIDUAL PURSUIT
Gold Katie Mactier (Australia)
Silver Rebecca Romero (Great Britain)
Bronze Sarah Hammer (USA)
The Brits
A tremendous ride by Rebecca Romero (Great Britain) saw her finish second in qualifying with a time of 3-37.079. Wendy Houvenaghel finished seventh but was only just over a second outside of the top four, showing how tight the women?s pursuit competitions have become. In the final, Romero came up against Katie Mactier, the Australian who won the pursuit in Sydney last week. Mactier took it by almost three seconds.
Brailsford said: "After her disappointment in Sydney she pulled out a really gutsy ride here. She's learning very fast and the setbacks have only made her stronger."
Romero said: ?I didn't have a good race in Sydney but I learned more from it. I did a lot of work this week on improving my leg speed and I am really pleased that I managed to turn it around. I make no bones about the fact I want to win gold at the World Championships and the Olympics. It'd be great to be standing in the middle of the podium here in eight months' time rather than on the second or third step."
Chris Newton
Swipe to scroll horizontally
Gold Joan Llaneras (Spain)
Silver Chris Newton (Recycling.co.uk)
Bronze Cameron Meyer (Team Toshiba)
The Brits
There were three British riders in the final ? but it was Chris Newton who gave the best performance, winning two sprints on his way to the silver medal behind former Olympic champion Llaneras. Rob Hayles (Great Britain) and Ben Swift (Team 100% Me) were 21st and 22nd respectively.
Newton (Recycling.co.uk) qualified comfortably from his heat, finishing fourth behind Belgian Six-Day star Iljo Keisse, Greg Henderson of New Zealand and Japan?s Makato Iljima. Newton scored in all but the first of six sprints during the 60-lap race and took fourth over the finish line.
Swift did even better ? winning his heat by a point from Peter Schep of Holland. Swift got off to a flyer, winning the first sprint and then taking the fifth to secure the win.
Hayles (Great Britain) left it late but made sure there would be three British riders in the final by squeezing through in eighth place in his heat. Six riders took a lap, making it a high-scoring heat, but Hayles won the sixth sprint and finished first on the finish line to make sure.
Swipe to scroll horizontally
Gold Marianne Vos (Netherlands)
Silver Belinda Goss (Australia)
Bronze Yumari Gonzalez Valdiviesco (Cuba)
Swipe to scroll horizontally
Gold Netherlands (Theo Bos, Teun Mulder, Tim Veldt)
Silver France (Gregory Bauge, Francois Pervis, Arnaud Tournant)
Bronze Great Britain (Chrs Hoy, Craig MacLean, Jason Queally)
The Brits
Great Britain?s trio of Chris Hoy, Craig MacLean and Jason Queally qualified third, with the Science In Sport team of Matthew Crampton, Ross Edgar and Jamie Staff in tenth. In the bronze medal match, the British squad had the measure of the Team Toshiba line-up of Daniel Ellis, Shane John Kelly and Scott Sunderland.
Victoria Pendleton
Swipe to scroll horizontally
Gold Natallia Tsylinskaya (Belarus)
Silver Victoria Pendleton (Science In Sport)
Bronze Clara Sanchez (France)
The Brits
Victoria Pendleton (Science In Sport) qualified fastest in the sprint, ahead of Simona Krupeckaite of Lithuania. Anna Blyth (Great Britain) was 16th, just making the ?B? competition, but she lost in the quarter-finals of it to Yvonne Hijgenaar of Holland. Pendleton eased into the semi-finals, beating Lisandra Guerra Rodriguez in straight races. The Cuban was relegated in the first match for moving off her line. In the semis, Pendleton beat Anna Meares (Australia) 2-0 to set up a revenge match against Natallia Tsylinskaya who knocked her out of the quarter-finals in Sydney a week ago. But again the Belarussian had the better of Pendleton, winning 2-0.
SEE THURSDAY'S CYCLING WEEKLY FOR FULL COVERAGE FROM BEIJING
RELATED LINKS
Full Beijing World Cup schedule and preview
CW's Dummies' Guide to track cycling
Thank you for reading 5 articles this month* Join now for unlimited access
Enjoy your first month for just £1 / $1 / €1
*Read 5 free articles per month without a subscription
Join now for unlimited access
Try first month for just £1 / $1 / €1