18,000 Royal Mail bikes relocated to Malawi to transform lives
The Krizevac Project has helped refurbish 18,000 former Royal Mail bikes, which are being sent to Malawi to help locals with their everyday lives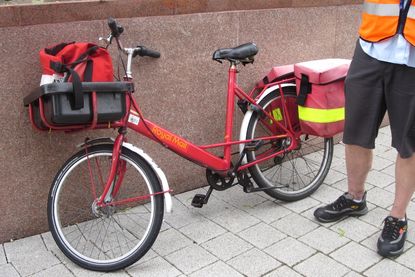 The sight of a postman on a bright red bicycle is pretty rare now, but those three-geared machines haven't been left to rust.
UK charity Krizevac Project has helped refurbish 18,000 big red machines and renamed them Elephant Bikes, some of which are being sold in the UK, while the others are being shipped to Malawi.
The Krizevac Project has worked in the country since 2007 helping to create viable social enterprises, one of which - BeeBikes - has seen locals repairing the Royal Mail bikes and selling them to Malawians.
With the bikes they can travel to work, transport goods to market or ride to and from work, according to the charity.
The bikes are pretty sturdy and used to carrying heavy loads, so are perfect for a new life in Malawi and are even used in the African country to patol a rhino fence - spraying then green helps the wardens avoid being charged by elephants!
If you wish to help the charity out, you can buy your very own Elephant Bike - a refurbished Royal Mail machine - for £250. Each one bought in the UK helps another one be sent over to Africa to help transform another person's life.
Check out the Elephant Bikes website to find out more about the scheme.
Thank you for reading 20 articles this month* Join now for unlimited access
Enjoy your first month for just £1 / $1 / €1
*Read 5 free articles per month without a subscription
Join now for unlimited access
Try first month for just £1 / $1 / €1