Royal Mail stops bike deliveries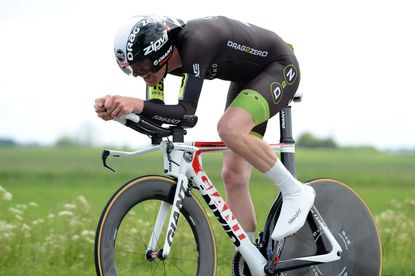 Get The Leadout Newsletter
The latest race content, interviews, features, reviews and expert buying guides, direct to your inbox!
Thank you for signing up to The Pick. You will receive a verification email shortly.
There was a problem. Please refresh the page and try again.
Royal Mail is set to take the last of its post bikes out of service in the new year. Posties' bicycles have been gradually phased out over the last four years.



And though the demise of deliveries by bike has long been mooted, for one particular postman, the loss of his bike in the latter part of this year presents a problem that stretches beyond the delivery round.
We're talking, of course, about national 50-mile time trial champion Matt Bottrill who - despite being a plumber by trade - famously became a postie so he could get in some training as he worked.
"I was really gutted when I first lost my post bike but now I'm adapting to the new ways of delivery," Bottrill said. "Having the bike while doing my job was a huge help. I used to cover around eight miles a day - that allowed my legs and body to go through the motions of training while working, but now I walk around six miles a day instead."
1950's postman keeps on going even in the snow...
Bottrill understands, though, why the changes have been made. "Our business is changing as people send fewer letters, and more parcels are ordered on the internet for home delivery. The amount of packets we now deliver has increased dramatically, it's so easy and convenient to shop on the internet. I'm amazed at the amount of packets we have delivered so far this Christmas.
"We have been told the use of the new high-capacity trolleys and vans is safer for postmen and women, and better for customers as it enables the parcels and letters to be carried together on delivery, and it means things can be better tracked, with us using [handheld] personal digital assistants."
But what's better for internet shoppers isn't good for Bottrill's competitive aspirations, and he's having to reconsider his approach to training.
"My round is now done either by van or high-capacity trolley," Bottrill said. "So rather than find other ways to train while on my round, I'm more focused on damage-limitation. "I'm always thinking of ways to recover so I'm fresh for training - by this, I mean planning so I don't have to walk as far, eating and drinking all the time. Walking six miles a day is going to keep you fit - I don't really need to be doing any more.
... but more parcels mean posties are hanging up their wheels
"But I'm quite fortunate that my delivery is only around one mile away from the office.
"I would love to alter my training outside of work to compensate, but the truth is my time is so limited, I don't think I can find any more time. With three kids and family life, realistically I struggle to find enough time for much more than eight hours of training a week. So I just make the most of that time, which means lots of hard training. But I love riding fast, and hurting myself, so it's not a problem!"
However, there is hopefully some significant good news on the horizon. "Royal Mail is looking at sponsoring me for 2014," Bottrill said. "We're just trying to sort the details at the moment and hopefully an announcement will be made in the next few weeks. So even having my bike taken away has turned into a positive."
Sights on Glasgow
While 2013 has been a great year for Matt Bottrill, he's looking towards performing at an even higher level, on the international stage, in 2014.
"I'm really feeling good, but most of all I feel mentally fresh and ready for a big year," Bottrill said. "I could have sat back after 2013 and said: 'What a year!' But the truth is I know I can still improve. My main target for 2014 will be the British Time Trial Championship, with the ultimate aim of getting selection for the Commonwealth Games.
"I guess a lot will depend on whether the likes of Wiggins and Froome want to ride. I know I'm not in their league, but feel I'm still improving, and I want to take on the best. Other than that, I want to win the National '25' and try to break the 25-mile competition record."
This article was first published in the December 19 issue of Cycling Weekly. Read Cycling Weekly magazine on the day of release where ever you are in the world International digital edition, UK digital edition. And if you like us, rate us!
Thank you for reading 20 articles this month* Join now for unlimited access
Enjoy your first month for just £1 / $1 / €1
*Read 5 free articles per month without a subscription
Join now for unlimited access
Try first month for just £1 / $1 / €1
Get The Leadout Newsletter
The latest race content, interviews, features, reviews and expert buying guides, direct to your inbox!