77-year-old cyclist tackles Stelvio Pass, downhill, at night with no bars or brakes (video)
Italian extreme cycling legend Giuliano Calore takes on the ultimate challenge on his no brakes, no handlebars bike – the 48 hairpin bends of the Stelvio Pass at night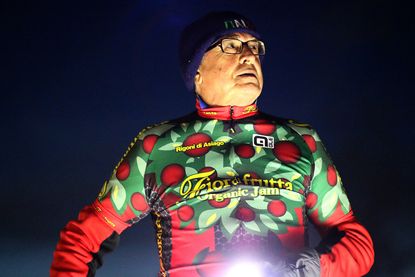 Riding down the 48 hairpin bends of the Stelvio Pass in Italy requires a certain amount of concentration and nerve. Now imagine doing it at night – even harder. Then remove your brakes – terrifying. And then throw away your handlebars...
But for 77-year-old Italian extreme cycling legend Giuliano Calore it was the ultimate challenge, and one that has been presented as a gripping documentary film.
Calore already holds several Guinness World Records for his cycling feats, which he has been regularly undertaking over many decades. Video footage of his no-handed descent of the Stelvio in 1986 has been a YouTube hit for years, and prior to that he rode up the Stelvio without touching his bars.
>>> Kajsa Tylen celebrates passing Billie Fleming's cycling mileage record
He's also ridden up the Stelvio playing four different musical instruments, again without handlebars, and later he rode up the Stelvio using just his right leg.
https://www.youtube.com/watch?v=ZV4MJok1_2o
Thirty years on from that footage, Calore's attempt in 2015 was filmed from beginning to end for the film 48 Tornanti di Notte (48 Hairpin Bends by Night).
The trailer for the film gives a glimpse into the attempt, and shows that all did not run smoothly, with Calore crashing into a wall at low speed as he practiced.
Calore's skill in controlling his no-bars bike is incredible, it's as though he is descending for kilometres in one long victory salute – but with the knowledge that if something goes wrong, he hasn't got any brakes to get him out of trouble.
The whole film is available to stream online for £4.98, or you can purchase a DVD version starting at €18.90 (£16.11).
Thank you for reading 5 articles this month* Join now for unlimited access
Enjoy your first month for just £1 / $1 / €1
*Read 5 free articles per month without a subscription
Join now for unlimited access
Try first month for just £1 / $1 / €1