88-year-old cyclist loses 'faithful friend' after bike he'd ridden since 1949 is stolen at Christmas
Rotrax bike had been ridden for more than 300,000 miles before it was stolen on night of December 23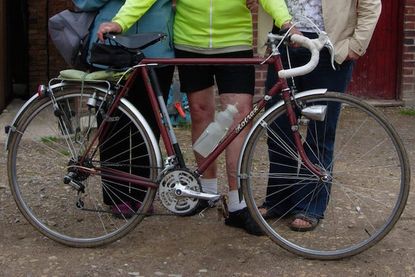 (Image credit: Elizabeth Lovatt/Facebook)
An 88-year-old cyclist from Nottingham suffered the loss of a "faithful friend" over the festive period after a bike which he'd ridden since 1949 was stolen from a garden shed between December 23 and 24.
The cyclist's daughter, Elizabeth Lovatt, shared the story of her father's stolen bike on Facebook, together with a photo of the Rotrax tourer, which has since been shared more than 1,600 times on the social media site.
"My dad has had this faithful friend since 1949, riding over 300,000 miles on it and maintaining it with the utmost care," Lovatt wrote.
>>> Chance find by member of public sees stolen bike reunited with 'stunned' Cycling UK chief executive
"The bicycle represents a huge amount of personal cycling history which is absolutely irreplaceable and our family would be immensely grateful for any information which may led to the return. My dad still rides the Rotrax and it would be amazing if he could be reunited with his bike."
The bike is a brown/bronze touring bike with a distinctive Rotrax frame made in 1949 from Reynolds 431 steel tubing, equipped with a black leather Brooks saddle, Stronglight triple chainset, and white bar tape.
In an update to her original post and the overwhelming response she received, Ms Lovatt wrote to say that she and her father were pleased to see such a large number of people getting involved to help track down the stolen bike.
>>> Watch: Thief brazenly pinches bike in broad daylight, making light work of lock (video)
"I am so very appreciative of all the positive messages and support/shares which have followed my original post. My father has been greatly cheered by the kindness expressed by such a large group of people," Lovatt wrote.
"We are still hopeful that this lovely bicycle may yet return to its rightful home so please continue to keep 'eyes open' and awareness out there."
Ms Lovatt is appealing for people in the Nottingham area to keep a look out for her father's bike in the hope of reuniting him with a bike he's ridden for nearly 70 years.
Thank you for reading 20 articles this month* Join now for unlimited access
Enjoy your first month for just £1 / $1 / €1
*Read 5 free articles per month without a subscription
Join now for unlimited access
Try first month for just £1 / $1 / €1