Chance find by member of public sees stolen bike reunited with 'stunned' Cycling UK chief executive
Cycling UK chief executive Paul Tuohy 'stunned' after being reunited with his red Brompton folding bike after someone spots it abandoned near a train station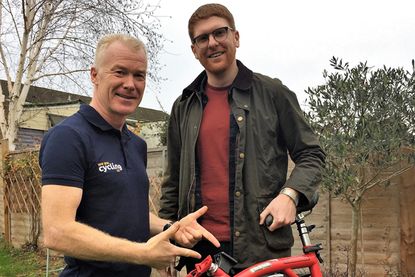 (Image credit: Paul Tuohy)
Paul Tuohy, Cycling UK's chief executive, has been reunited with his stolen Brompton folding bike after it was found by a member of the public.
Tuohy had the bike – valued at around £1000 – stolen from him during a train journey between London and Dartford on December 21 at around 7.15pm. He had left it folded up behind his seat, and found that it was gone after he was engaged in a conversation with a passenger on the train.
A Dartford office worker, who only wanted to be identified as Jason, found the red bike abandoned near Dartford station. He took it home and after doing some research online identified it as the same bike stolen from Tuohy. The bike and its rightful owner were reunited a couple of days after it was taken.
>>> Cycling UK chief executive 'disappointed and infuriated' after having bike stolen from train
"I came back late from London Bridge and saw the bike near an underpass," said Jason. "Nine times out of ten I would have left it, but I thought it was a bit odd so I picked it up and carried it home.
"I left it outside the flat and when my girlfriend got up, she wondered what the bike was doing there!"
"It was on my way to work when I was checking Twitter, and I saw the story and realised it was the bike Paul had had stolen. I Tweeted Paul, and then I phoned the office."
Tuohy said he was 'stunned' that the bike was returned to him in one piece.
"It's amazing in this day and age that someone would find a Brompton bike and make the effort to return it to its owner," said Tuohy.
"For Jason to take the time and trouble to find me, and bring it back is incredible. It shows some real Christmas spirit at this time of year.
"I've had the bike since I started at Cycling UK, and in that time I've grown quite a strong attachment to it. We've been through a lot together, and when I thought I'd lost it, I was pretty down. I'm so grateful to Jason."
Cycling UK reports that more than 327,000 bicycles are stolen every year in England and Wales.
Thank you for reading 20 articles this month* Join now for unlimited access
Enjoy your first month for just £1 / $1 / €1
*Read 5 free articles per month without a subscription
Join now for unlimited access
Try first month for just £1 / $1 / €1