Cycling UK chief executive 'disappointed and infuriated' after having bike stolen from train
'It left me with a real empty feeling' says Paul Tuohy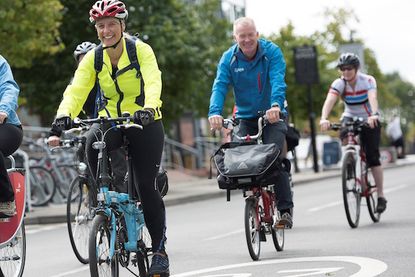 (Image credit: Cycling UK)
The chief executive of cycling charity Cycling UK says that he is "infuriated" after having his bike stolen from a train on Wednesday.
Paul Tuohy was travelling between London and Dartford yesterday evening at around 7.15pm when he had his Bromptom folding bike stolen.
"I was travelling back from a meeting in Soho, and as always I put my bike folded up behind my seat," Tuohy said.
>>> Watch: Thief brazenly pinches bike in broad daylight, making light work of lock (video)
"I sat down with my phone and started to do some work when a man struck up a conversation with me after noticing the Cycling UK logo on my jacket.
"We had a nice chat for about twenty minutes, but he got off the train a few stops before Dartford.
"When I checked behind my seat, my bike was gone. So at some point during that twenty minute conversation, someone lifted it and walked off.
Tuohy, who has been chief executive of Cycling UK for more than three years, said that he was disappointed and infuriated to have the bike stolen.
"'It left me with a really empty feeling. I've had that Brompton since I started with the charity in 2014," Tuohy continued. 'It's a brilliant bike. That bike and me have done a lot of work together for Cycling UK.
'The bike's a little bit battered, but it's recognisable because it has a CTC sticker on the mudguard. It's just so infuriating."
>>> Six best bike locks 2017: a buyer's guide
Cycling UK hopes to use the incident to highlight the issue of keeping bikes secure, issuing advice to cyclists on how to properly lock their bikes up and where are the best locations to store bikes to stop them being stolen.
More than 327,000 bikes are stolen each year in England and Wales, with riders advised to use at least one high-quality lock, and to try and lock their bikes up in a public place, preferably covered by CCTV.
Thank you for reading 20 articles this month* Join now for unlimited access
Enjoy your first month for just £1 / $1 / €1
*Read 5 free articles per month without a subscription
Join now for unlimited access
Try first month for just £1 / $1 / €1