A virtual video tour of Britain's 100 greatest cycling climbs
Download high definition video footage of 100 of Britain's toughest and most well-known climbs: ideal for turbo training or event preparation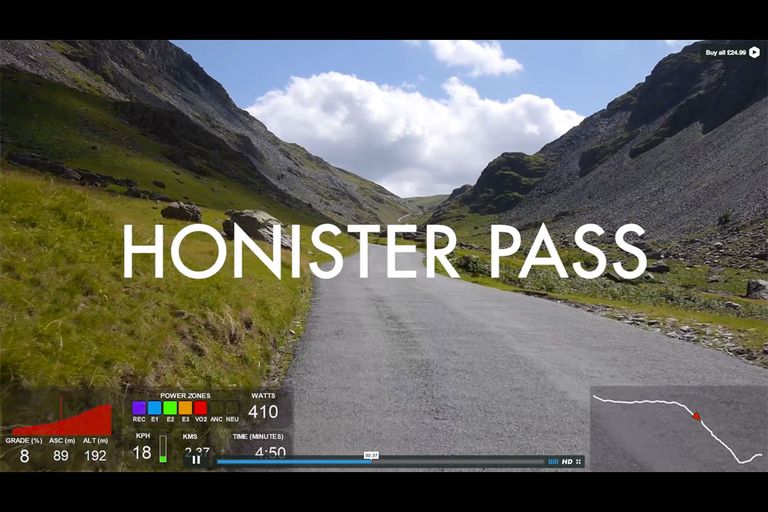 The best-selling book 100 Greatest Cycling Climbs has been turned into a high-definition video. Each of the climbs has been filmed using a bike-mounted camera to provide a rider's-eye view of Britain's finest ascents.
Climbs such as Hardknott Pass, Rosedale Chimney and Bealach-na-Ba - and yes, Box Hill - are included in all of their full-colour glory captured using a wobble-free, gyroscopically-stabilised 1080p HD camera.
In total, the footage runs to 18 hours and 15 minutes over 325 kilometres of roads.
>>> Four tips to nail any climb (video)
The videos are ideal for those wishing to spice up their winter turbo sessions, for those who want to check out climbs for an event or sportive, or for those who simply want to see what some of Britain's best hills look like without actually breaking into a sweat.
On-screen stats show you a map, gradient, time, power and other essential information.
It's a pretty impressive undertaking for the makers to have filmed all of these climbs in such great detail.
All 100 climbs can be downloaded for £24.99, or individual chapters (regions) are available for £3.99. The videos can be bought and downloaded via Vimeo.
The video footage is also available on DVD.