Adriano Malori remains in hospital after serious Tour de San Luis crash
Movistar rider Adriano Malori's 'condition improving gradually' after crash during Tour de San Luis in Argentina - Team confirms that the Italian hit a pothole, causing the crash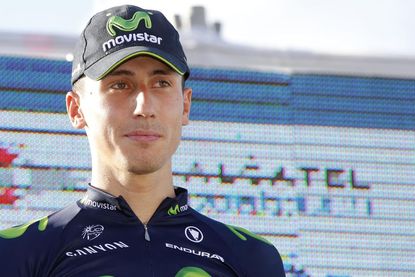 (Image credit: Watson)
Italian Adriano Malori, second in the world championship time trial last year, remains in Argentina's neurological clinic while other Tour de San Luis riders are returning home to start the season in Europe.
The team Movistar cyclist was among several other riders that fell going 65kph in the fifth stage on Friday. The stage race continued and on Sunday, Nairo Quintana's younger brother Dayer, also on team Movistar, won the race overall in San Luis.
"The riders who closely witnessed the accident confirmed the sequence of events that led to Adriano's injuries: Malori hit a pothole, which threw him off balance and made him crash," read a team press release.
Spanish newspaper Marca had reported that a brain abnormality, perhaps an aneurysm, caused Malori to crash while speeding along at the head of the bunch. His fall caused several others, including Nairo Quintana, to subsequently crash.
However, Team Movistar said that a pothole "without any sort of doubt" caused the accident. The team referred Cycling Weekly to a photograph online purported to show the pothole.
Malori suffered a fractured right collarbone and more seriously, head injuries. News the next day that six of Giant-Alpecin's cyclists, including John Degenkolb, were hit head-on by a car in a training incident largely over-shadowed the accident in Argentina. The cyclist from Parma, however, was in serious and perhaps worse condition than any of the Giant cyclists.
>>> How does John Degenkolb's injury affect Giant-Alpecin's season goals?
"Moments after the accident and following his admission to the hospital, joined by the team's medical staff, the rider was induced to a status of 'coma', which stands for a sort of induced sedation, allowing the patient's injuries to heal in a controlled way. The 'coma' was never a direct consequence of the trauma."
Medics transferred Malori 500 miles east to Buenos Aires on Monday afternoon to neurological clinic Fleni that often treats film stars and politicians. The team said it was "with the aim of having more precise medical checks done on him, with techniques and instruments not available at the hospital in San Luis".
>>> Adriano Malori 'recovering well' after serious Tour de San Luis crash (video)
He has been out of the medically-induced coma for 48 hours and is conscious and lucid. His condition, the team said, continues to improve gradually.
Malori turns 28 tomorrow. His partner Elisa is already with him in Argentina and his mother Alessandra arrives from Italy today.
Before leaving to continue the rest of their season, a few cyclists including Nairo Quintana, were able to visit Malori in the hospital. Dayer Quintana said: "I dedicate this success probably to my squad, the Movistar team, my family and wife, and above all, Adriano."
Movistar had to do without the Italian today at its team presentation.
Thank you for reading 20 articles this month* Join now for unlimited access
Enjoy your first month for just £1 / $1 / €1
*Read 5 free articles per month without a subscription
Join now for unlimited access
Try first month for just £1 / $1 / €1