Banned cyclist Andrew Hastings admits to doping on SAS: Who Dares Wins
Andrew Hastings says that he wouldn't have doped if he could turn back the clock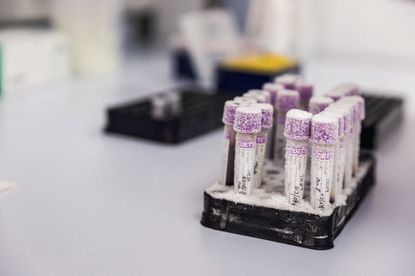 Banned amateur cyclist Andrew Hastings has publicly admitted to taking prohibited substances.
Hastings was banned for four years by UK Anti-Doping in December 2015 - backdated to May of that year - after testing positive for anabolic steriods Metenolone and Stanozolol at the National Team Time Trial Championships on May 30, which was won by Team Swift.
The following day he won the British Cycling Masters title in the 35 to 39 age group. He claimed that a used syringe was at the fault for the analytic adverse finding.
However, speaking on the Channel 4 programme SAS: Who Dares Wins, where he is a contestant, Hastings confessed to officers that he did take the steroids.
"Yes," he said. "If I could go back in time I wouldn't do it."
>>> Another British amateur cyclist has been banned for anti-doping offences
The officers goaded Hastings, saying that he doped because he was weak and that he wasn't strong enough.
He responded that the real reasoning was "quite the opposite; I was doing really well."
The section on Hastings is 20 minutes into the programme and is available on the Channel 4 website (opens in new tab).
"I came to cycling quite late," Hastings said before the interrogation. "Competitive cycling trumped everything I had done so far. Winning is a big thing, a great thing.
"When you win your family, friends and teammates give you praise. It's a great feeling.
"You almost get stuck in a cycling bubble world and it is very addictive. You became fairly selfish because you're training all the time or racing and when you race there's a lot of travelling involved.
"You look back at what you have done over the year and you missed weddings to go bike racing. I want to be less selfish."
Thank you for reading 5 articles this month* Join now for unlimited access
Enjoy your first month for just £1 / $1 / €1
*Read 5 free articles per month without a subscription
Join now for unlimited access
Try first month for just £1 / $1 / €1