Behind the stripes of MTN-Qhubeka
The side of the MTN-Qhubeka team bus bears the slogan: 'Bicycles change lives'. For them, winning isn't everything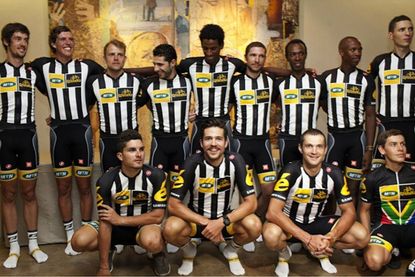 This article first featured in the November 2014 issue of Cycle Sport
Cycle Sport's Kenny Pryde spoke to the team after they completed their first Grand Tour, the 2014 Vuelta a Espana. Now with their selection to the 2015 Tour de France confirmed, we look again at the team's origins, ethos and ambitions for the future.
Just another charity?
These days, it's easy to suffer from compassion fatigue. Perhaps it's not a surprising response to the bombardment of images and tales of despair and degradation that we see and read on a regular basis. A plague on both your houses is a common position.
Sometimes, the sheer awfulness of world affairs, floods, landslides, disease and war overwhelms us. And, anyway, why aren't governments doing more? Why are governments privatising compassion, farming it 'offshore' for the general public to sort out with their loose change donations and purchase of celebrity-endorsed charity tunes?
So, when you hear that the MTN-Qhubeka team, Africa's only registered Pro-Continental team, is deeply involved with a charitable non-governmental organisation, Qhubeka, which supplies bikes to African children, you might be excused from rolling your eyes. You might, in these cynical times, wonder if it's not just a gimmick to generate some column inches for a small team.
You could think that, until you spend time with Douglas Ryder, the man behind the team. The vision and passion that floods out of Ryder makes you appreciate that the team slogan 'Bicycles change lives' on the side of the team bus is, truly, at the heart of the squad. When he states, deadpan, "We try to give bikes to girls and young women, because it helps them avoid rape. If a girl is on a bike, she's on the roads rather than taking shortcuts through the forest where women are vulnerable, and she's travelling at 20kph," your cynicism burns away. In some locations in Africa, the bicycle is a machine that helps to prevent rape. What do you think? How's your cynicism holding up?
You probably know that MTN-Qhubeka is 'Africa's team' and has more black riders on its roster than anyone else. However, that might be about as far as your understanding goes. Perhaps you imagine that MTN-Qhubeka riders are not really good enough to get in a decent team. You presume that they get leeway because 'it's all for a good cause'.
>>> Matt Goss motivated to ride for MTN-Qhubeka
Out of Africa
Ask yourself this. How many teams do you know who essentially 'give away' their co-sponsor for precisely zero financial support? How many teams give prime space on their jersey to an entity that actually costs the team money? At a point in the global economic cycle where Italian cycling is reduced to one WorldTour pro team; where the Vuelta a España had a paltry two Spanish teams and a meagre 28 Spanish riders out of 198 at the start, the team behind MTN gives away the co-sponsor space on its jersey, half of its name, to a non-governmental organisation set up to provide bicycles to African children.
Qhubeka — a Xhosa word meaning 'to progress, to move forward' — buys 'Buffalo' bikes and distributes them to African people who have carried out community work, grown trees, cleaned up rubbish or done well at school. Note then, that Qhubeka simply doesn't hand out bikes to charity cases. Qhubeka's Buffalo bikes are earned. The hands on the jersey are pushing up, not grasping or pleading. "We're giving kids a hand up, not a hand out," notes Ryder.
>>> MTN-Qhubeka goes all Newcastle United with new 2015 kit
The title sponsor, MTN, is a giant African telecoms company, with 55 million subscribers in Nigeria. Again, there aren't many headline sponsors whose only interests lie inside a continent where there is almost no racing and little in the way of media coverage where the team it sponsors is active. In these two facts you can see just how different the MTN-Qhubeka team set-up is. And here's another nugget: 10 per cent of the team's prize money goes directly to Qhubeka. Every time the team wins, so does a person in Africa.
Ryder's vision is clear and persuasive. "Can you remember what it was like to get your first bike?" he says. "Can you remember what it was like to ride further than the end of your street? Most people can remember those moments, but that feeling of freedom, of mobility, is multiplied 100 times in Africa.
"These kids on Qhubeka bikes aren't just playing or going on a little 'adventure' — they're riding to school, they're able to change their lives and those of their families. Why wouldn't cyclists everywhere want to support that? To help kids experience those same feelings?"
Well, quite. For MTN-Qhubeka and Ryder, sometimes bike racing is about more than just 'winning'. "Our team isn't only about winning races, it has another over-arching dimension which is just as important, maybe even more important," Ryder explains. "It's an ambition to want to put more kids on bikes in Africa because we know what the talent is like there, and if we can bring through that talent it would be amazing."
>>> Tour de France wildcard selection will boost race's worldwide appeal
But MTN-Qhubeka is not simply about a continent-wide talent search; it's about education and communication. What most people who have never visited sub-Saharan Africa don't realise is that poverty is a grim reality where the average black household income in South Africa is £3,300 per year. Yes, that's per year per house, an everyday fact of life, where children can't get to school because it's too far away, there's no public transport, they can't afford a bus anyway and they've got chores to do at home. When you were of school age, can you imagine walking two hours to school each way?
It's all very noble, but the fact is that MTN-Qhubeka needs to win more races in Europe, because if you win more races you get more coverage. That means you get more followers, which then leads to Qhubeka getting more donations, kids getting more bikes, leading to better education and a means of transport for the family. Ryder's vision for his team involves empowering a continent through improved education and communication, via the bicycle. Imagine that. As an 'over-arching' goal for a team it beats winning any race or any marginal gain.
Going global
But this is still a bike racing team and at one level, of course, it's still about racing. "Do we have enough depth in Africa so that we can be a team of 22 riders all from the continent of Africa? No we can't," admits Ryder. "But we're not alone. Sky couldn't find 22 British riders, Orica [GreenEdge] couldn't find 22 Australians either. But do we want to compete with the 40 other teams in the WorldTour and Pro Continental level? Yes."
>>> Brian Cookson: Team Sky is failing UK talent
Ryder is currently recruiting some big names for MTN-Qhubeka: Edvald Boasson Hagen, Theo Bos and Tyler Farrar, and taking some flak for it. Yet he's clear on why it needs to happen. "The first time we went to the Classics we got a big lift, Qhubeka got a lot of donations and we thought it would be replicated at other events, but it just wasn't," he explains. "There are two big spikes in the season — the Spring Classics and the Tour de France and outside of that the attention and coverage is almost nothing, globally speaking. We realised this year that we need to be taking part in the biggest races — and that means the Tour de France."
>>> Edvald Boasson Hagen's fresh start at MTN-Qhubeka
"I'll give you an example. We thought that being the first African team to ride the 2014 Vuelta would be massive for us and when the announcement was made, we expected some coverage and interest.
"There was some, but not a huge amount. Then we announced that we had signed Edvald Boasson Hagen and the Twitter followers and social media interest went through the roof. Cycling loves stars more than it loves stories, even good stories like ours."
Rapid progress
And the MTN-Qhubeka team has many astonishing stories to tell. Of Songezo Jim who lost both his parents early in his life; of Rwandan genocide survivor Adrien Niyonshuti or Eritrean rider Merhawi Kudus, whose salary was enough to ensure not only that his family's house got hooked up to electricity, but his whole village.
However, in the end Ryder knows that the event that will take his team and their grand idea into another realm of media exposure is the Tour de France. Qhubeka 'needs' the Tour de France and Ryder and his talented riders need the Tour. Before their selection was announced, Ryder said: "I know that if we don't get an invite to the Tour de France in the next two years — maximum — then we will lose our most talented African riders," Ryder says. "Guys like Louis Meintjes and 20-year-old Eritrean Merhawi Kudus are going to leave the team if they can't get to ride the Tour soon. And that would be fair enough, because they need to progress.
>>> Louis Meintjes wants to be selected on merit in bolstered MTN-Qhubeka team
"The ultimate goal would be to have a black African rider on the podium of a Grand Tour. Can you imagine that? Can you imagine how inspirational that would be to young Africans, if we had a sort of cycling Michael Jordan, someone for kids in a whole continent to be able to look at and think, 'yes, I want to do that, I can do that!' It would be incredible, unbelievable."
Team players
At the moment, such a scenario is, indeed, 'unbelievable' because, although the physiological talent to win the Tour de France exists somewhere in a continent of 1.1 billion souls, the lack of well-funded cycling federations, infrastructure and race programmes is holding back the hunt for the Haile Gebrselassie or David Rudisha of cycling. Even in relatively prosperous South Africa, the national junior series attracts around 50 or 60 riders, though mass-participation epic mountain bike rides get thousands of entrants. At the moment, road cycling isn't in the top 10 sports in South Africa.
"I've had riders and agents coming up to me to ask about getting a place on the team — some big riders — and they say, 'Oh, I know it's connected to some kind of charity thing, but I'm not that bothered about that side of it.' Well, I'm sorry, but that's not good enough, that's not the way it works — riders like that have no place on the team," Ryder says.
"We only take riders who really 'get' the project and what we are trying to do, none of the riders are paying lip-service to the principles behind the team and every one of them who has been to a bike hand-over day in Africa comes back to Europe with a different appreciation of what's involved, and what a big difference they are making to people. Ten per cent of any prize money a rider wins goes to Qhubeka, the riders know that and support the idea."
Those who say they do, but don't really, don't last long.
As most of the races on the cycling calendar take place in Europe, one of the team's biggest obstacles is getting visas arranged so their riders can travel and compete. "We spend a lot of money and a hell of a lot of time getting visas sorted, because 70 per cent of our riders require them. Riders who, in any case, aren't allowed to be a resident in Europe and whose visas run out every three months, so they have to go back home for six weeks before they can reapply and come back to Europe," he says.
This is Africa
"When we are planning the season we have to factor that stuff in and, of course, the bureaucracy in some African countries is less than smooth, so when you send away a passport and application forms, you can't be sure when they will come back. But, as we always say, TIA — This Is Africa," smiles the endlessly optimistic Ryder.
The reality is though that if his riders have visa problems, it could kill the team, because if a visa doesn't come through on time, MTN faces a position in which they simply can't field enough riders to race. It would be cheaper for Ryder to hire European riders than Africans, in terms of visa costs.
"I want people to support the team and want to be part of the team not just because the guys race well, but because, more importantly, they support what the team stands for. Like in football, you support a team no matter what, no matter what players come and go, but you support the team anyway. That's what MTN-Qhubeka should be, it's not about me or the riders, it's about something way bigger that will endure after we've gone."
Thank you for reading 10 articles this month* Join now for unlimited access
Enjoy your first month for just £1 / $1 / €1
*Read 5 free articles per month without a subscription
Join now for unlimited access
Try first month for just £1 / $1 / €1