Brian Cookson: Team Sky is failing UK talent
UCI president and former member of the team's operating board says homegrown riders are not being developed by the squad.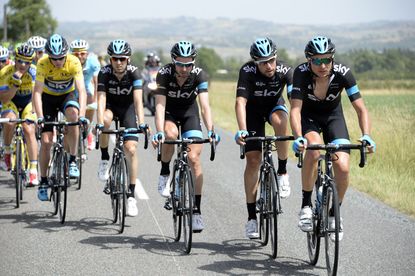 (Image credit: watson)
UCI president Brian Cookson believes Team Sky has abandoned one of its original pledges of seeking to develop young British riders.
Cookson was a member of the operating board of the team's owners, Tour Racing Limited, from its inception in 2010 until he was elected into his current position last September.
But during an interview for CW's sister magazine, Cycle Sport, Cookson bemoaned the team's changed position on blooding home-grown talent.
"I'm reluctant to criticise Sir David Brailsford in any way because he has done amazing things with British Cycling and with Team Sky, but I feel that the team isn't quite staying true to one of the reasons it was formed," said Cookson.
Sky's 2010 line-up contained eight British riders. The 2014 team still had eight British riders, but the riders from other countries had grown from 18 to 20.
With regards to the initial stated aims of developing British talent, the team's second youngest rider, Josh Edmondson, is rumoured to be joining MTN-Qhubeka for 2015.
And arguably the most promising young British talents in the past five years – Adam and Simon Yates – turned professional this season with the Australian Orica-GreenEdge squad.
"I mean, the Yates brothers should be in Team Sky," Cookson added.
See this week's Cycling Weekly (October 23), and the December 2014 issue of Cycle Sport - both in the shops now - for more with Brian Cookson.
Team Sky boss David Brailsford says signing Adam and Simon Yates would 'make absolute sense'
Three members of new independent commission appointed by UCI will 'investigate the problems cycling has faced in recent years'
Thank you for reading 10 articles this month* Join now for unlimited access
Enjoy your first month for just £1 / $1 / €1
*Read 5 free articles per month without a subscription
Join now for unlimited access
Try first month for just £1 / $1 / €1
Freelance Journalist & Author
Chris has written thousands of articles for magazines, newspapers and websites throughout the world. He's written 25 books about all aspects of cycling in multiple editions and translations into at least 25
different languages. He's currently building his own publishing business with Cycling Legends Books, Cycling Legends Events, cyclinglegends.co.uk, and the Cycling Legends Podcast