David Brailsford resigns from British Cycling post
Head of performance replacement not named in internal review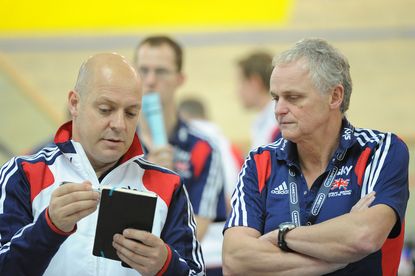 (Image credit: Andy Jones)
Highly decorated British Cycling performance director David Brailsford has resigned from his post two years out from the 2016 Rio Olympic Games.
The Guardian broke the story today and BC CEO Ian Drake is due to hold a press conference with media at midday to further clarify the situation.
Brailsford in February said he was considering his post and conscious of not spreading himself too thin with duties at the national governing body and also as the principal of the dual Tour de France winning Team Sky.
It's not clear who, if anyone, will replace Brailsford at British Cycling. Veteran head coach Shane Sutton is a potential contender but is on holiday and was unavailable for comment today.
The move is part of an internal review of Great Britain team management that has seen Sutton appointed as technical director, responsible for performance, whilst psychiatrist Steve Peters has also stepped down.
A press release this morning read: "A new role of head of performance support will be created to strengthen the senior team and who will work closely with Shane and [ongoing programmes director] Andy [Harrison].
Drake added: "Both Sir Dave and Steve took leading roles in the review and recognised the systems that they have helped put in place mean they can both step away from the team, certain it will be in good hands.
"The changes we are announcing today are in response to a simple question which has guided the team since lottery funding was introduced – what will give us the best chance of winning gold medals?
"In Shane and Andy, I'm confident we have the right management team to take us into Rio and beyond. The sport of cycling in this country has travelled a long way in the last few years but the best is yet to come."
Updates to follow throughout the day.
Twitter: @SophieSmith86
Thank you for reading 20 articles this month* Join now for unlimited access
Enjoy your first month for just £1 / $1 / €1
*Read 5 free articles per month without a subscription
Join now for unlimited access
Try first month for just £1 / $1 / €1