At the Team Sky launch: We have lift-off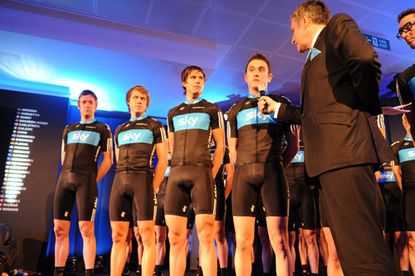 Get The Leadout Newsletter
The latest race content, interviews, features, reviews and expert buying guides, direct to your inbox!
Thank you for signing up to The Pick. You will receive a verification email shortly.
There was a problem. Please refresh the page and try again.
Team launches are always unusual occasions, rather like visiting a restaurant, savouring the menu and having the waiter explain the delights of each delicious course but without actually getting to taste any of the food.
At London's Millbank Tower yesterday, Team Sky did an excellent job of whetting the appetite, even if we still have a few weeks to wait until they are in action.
As befits a multi-media giant like Sky, the presentation was slick, exciting and with just the right dash of hype, even if everyone seemed a tad nervous. Even the seasoned broadcaster and keen cyclist Dermot Murnaghan, who hosted the formalities, was a little off his stride.
Perhaps it was because of the scale of the occasion. This is Great Britain, not a country that has a rich heritage of world-class professional cycling teams to look back upon. Team Sky may not be treading footprints in virgin snow, but it is making far bigger strides than any cycling team from these shores has attempted before.
This is the first British ProTour team. It will be the first British-backed team to ride the Tour de France since ANC-Halfords in 1987. And it will do so with a British leader, a core of British riders and a back-up team that has helped enable Olympic success after Olympic success.
Dave Brailsford admitted to being a little emotional on a day that finally saw his pro team vision become a reality. But there it was with some stunning-looking bikes, a very smart jersey, some extravagant Jaguar team cars and a whole squad of riders, all of whom seemed to have been expertly schooled to say exactly the same things to the assembled media. Well, Millbank is the national headquarters of spin, isn't it? You wouldn't expect anyone to be 'off-message'.
And that message is that Team Sky is about inspiring people and striving to put everything in place to ensure that the riders can be the very best they can be. It's a very nice line, but also a neat way of avoiding having to make any tangible statements about what they would deem a successful first year. Where the careful pressure-management falls down is when you have the reporters on Sky Sports News talking in certain terms about this being the team that will deliver a British Tour de France winner in five years and the following days media dominated by headlines along the lines of The Guardian's "Bradley Wiggins can win the Tour de France, says Sean Yates".
Perhaps such mammoth investment, reportedly more than £30m over the length of the four-year contract, from Sky, a company that does not do anything by half measures, accounts for the hint of nerves. One of the broadcaster's slogans is 'Believe in Better', but everyone knows that is something of a euphemism. Sky wants to be the best at everything it does. Sky doesn't do second, third or fourth.
Marginal gains
The thin blue line that runs down the spine of the team's new jersey serves as a constant reminder of the narrow margin between winning and losing, success and failure and being good and becoming great.
While they are keen to play down the more revolutionary aspects of their philosophy, it remains the case that they are in a small minority of teams when they talk about having an entirely rider-centric programme. That is not the traditional way of running a professional cycling team, and it could be a breath of fresh air.
But all the talk of the riders making their own decisions and determining their own destiny, can be true only up to a point. They will all know who's calling the shots, but it is certainly the case that Team Sky has the funding and the know-how to eradicate excuse-making from the riders' lexicon. Everything practicable and affordable will be done to ensure the riders have the best possible chance of success. As Brailsford said, they will seek every fairly-available advantage, they will explore technological gains and they will plan to the nth degree. It is the way British Cycling has developed and now we will all see if it is a philosophy that can thrive in professional cycling.
There is a limit to how much of interest can be gleaned from a team launch because it goes without saying that bike riders want to win bike races, but there was a sense of anticipation and excitement that these occasions often lack. Perhaps it verges on the evangelical at times, but it is an extremely positive atmosphere to witness, as long as you are completely onside with each and every aspect and don't wish to suggest an alternate viewpoint.
It would be foolish to ponder now how Team Sky will do this season. Many of the riders still have at least one final big block of training to do before the season starts and even if the team would like to hit the ground running and get the first victory under the belt as early as possible, the real objectives are still months away. But looking at the number of victories the Team Sky riders achieved with their previous teams during 2009, they will be up there among the big hitters.
Slick, professional
Team Sky struck the right balance between gravitas and razzamatazz. Having attended many team launches, they can be dreadful affairs. At a Cofidis launch once, we were subjected to a long, boring pitch for the company's credit services, while at a Quick Step presentation, where everyone wanted to talk to Tom Boonen and no one wanted to talk to anyone else, the only moment of light relief was the sight of Patrick Lefevere's stunned and angry face when he saw the bulbous stomach of his new recruit Dmitriy Grabovskyy.
But this struck just the right note, even if there was no one from BSkyB involved to explain just where this huge interest in cycling stems from. For so long cycling has been a fringe pursuit in this country, it feels peculiar that it may be on the verge of becoming truly mainstream.
More importantly, the event created a buzz. Engaging with the public is a key part of the team's raison d'etre and the early-morning ride for 200 lucky people who'd applied to join Team Sky on their ice cold roll through the streets of London went away very happy. The fact bits of the presentation were broadcast on Sky News and Sky Sports News throughout the day made it feel more like an event too.
It was apparent too that cycling, in these quarters at least, is growing up. Sport is a serious business these days. Team Sky's riders are likely to be among the most handsomely remunerated in the peloton and with money comes expectation and with expectation comes pressure. It's not about having a laugh, of course it's not, but it would be a shame, in cycling's rush to emulate the riches of other sports, if the remaining joy and charm that makes cycling the sport it is were to be eradicated by a rush to emulate the starchy professionalism that has .
Focus on the positive, write-off the negative
As much as they wanted to emphasise the many positives, it has not been a pain-free birth, and it is perhaps surprising for a team paid by a media company that some of the team's hierarchy have seemed uncomfortable with being subjected to a little scrutiny, particularly when it has been so gentle compared to the mauling to which Sky sometimes subjects those in other sports - the way the company's stations picked over and over the bones of Tiger Woods's crumbling private life springs to mind.
Brailsford was dismissive when asked whether he felt the team's recruitment tactics, particularly concerning the way they hired two contracted riders, would mean consequences out on the road.
But control is the key word here. British Cycling controls the controllables and it seeks to minimise the uncontrollable. The reality is that sometimes the media and public opinion are not controllable and in this respect, some of the team's management and one or two of the riders perhaps need to grow thicker skin, particularly if the 2010 Tour de France degenerates into the sort of six-way squabbling match we witnessed last year.
But any talk of Team Sky's recruitment policy annoying rival teams such as Garmin and Katusha, what will really have them smarting is the fact that Team Sky's management will get to drive Jaguar team cars. Everyone else makes do with a Skoda, but Team Sky will travel in style, particularly as their bus is said to be state-of-the-art too [See the next issue of Cycle Sport for a sneak preview].
Seeing the Jaguar there brought back memories of eight Januarys ago when the unauthorised use of the logo on the Linda McCartney team jersey was one of the contributing factors to bringing down the precariously-stacked house of cards. The 2001 team had been funded on a wing and a prayer. The owner, Julian Clark, had persuaded a French Jaguar dealership to sponsor the team without the British company knowing anything about it. When Jaguar found out, they were not happy, and it soon transpired that one of the other sponsors, the wine producer Jacob's Creek, had only sponsored the team for the Tour Down Under, not the entire season. It was all a bit smoke and mirrors.
By three very different and circuitous routes, Sean Yates, Bradley Wiggins and Russell Downing, who were all supposed to be part of the Linda McCartney 2001 team, finally made it to the big London launch of a top British pro team together yesterday.
"Brad said to me 'Do you remember the last time we were in London for a team launch? It's mad isn't it'," said Downing, who was absolutely delighted to be finally getting his chance in the big time.
This time it's no illusion. It's very real. The British cycling fans are already on side. But hopefully it'll create more cycling fans in Britain and get more people on bikes. It's time to race. Enjoy the ride.
Thank you for reading 20 articles this month* Join now for unlimited access
Enjoy your first month for just £1 / $1 / €1
*Read 5 free articles per month without a subscription
Join now for unlimited access
Try first month for just £1 / $1 / €1
Get The Leadout Newsletter
The latest race content, interviews, features, reviews and expert buying guides, direct to your inbox!
Sports journalist Lionel Birnie has written professionally for Sunday Times, Procycling and of course Cycling Weekly. He is also an author, publisher, and co-founder of The Cycling Podcast. His first experience covering the Tour de France came in 1999, and he has presented The Cycling Podcast with Richard Moore and Daniel Friebe since 2013. He founded Peloton Publishing in 2010 and has ghostwritten and published the autobiography of Sean Kelly, as well as a number of other sports icons.