BELL RINGS OUT WARNING TO TITLE RIVALS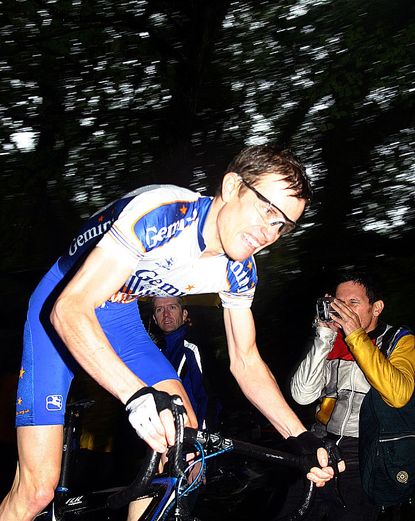 AFTER his win over Jim Henderson on the Rake course in Lancashire a week earlier, southern challenger Bill Bell again underlined his medal chances in the National Championship when he won the oldest hill-climb in the world promoted by Catford CC on the Yorks Hill course near Brasted, Kent, today.
But the Gemini rider was denied an outright double when he and course record holder Gary Dodd (Sigma Sport RT) dead heated in the Bec CC event on the White Lane course at Titsey, near Westerham, later in the day.
Bell stormed up the 652-metre Yorks course in 1-52.3 to finish with exactly a second to spare over National Trophy cyclo-cross holder Jody Crawforth, leader of the winning Evans Cycles RT squad, in the 111th edition of the Catford classic.
Torrential rain greeted riders at the Bec CC hill-climb, but it didn?t deter another big crowd which witnessed history in the making as Bell and Dodd tied on the 700-yard White Lane course.
Even taking times down to hundredths of a second ? compared with the usual tenths of a second for hill-climbs ? the pair could not be separated at 1-49.17.
Crawforth, winner of last year?s 50th running of the Bec promotion, was third in 1-51.5.
Bell and Dodd each went away £550 richer, having shared the £1,000 first prize as well as the £100 for second.
Nick Dawes (Farnborough & Camberley CC) came out top in the South Eastern weekend programme of four events, which also included the Brighton Mitre double header on Saturday.
Catford CC (Yorks Hill, 652 metres).-
Bill Bell (Gemini BC) 1-52.3
J. Crawforth (Evans Cycles RT) 1-53.3
B. Pochee (Rapha-Condor RT) 2-04.5
N. Dawes (Farnboro & Camberley CC) 2-05.4
J. Newall (Evans Cycles RT) 2-06.1
M. Smith (Gemini BC) 2-06.9
Team.- Evans Cycles RT (Jody Crawforth, James Newall, Justin Hoy 2-11.4) 6-10.8. Veterans.- John O?Brien (De Laune CC) 2-16.5. Women.- Ruth Elliott (In Gear RT) 2-53.7.
Bec CC (White Lane, Titsey, 700 yards):
Bill Bell (Gemini BC 1-49.17
Gary Dodd (Sigma Sport RT) 1-49.17
J. Crawforth (Evans Cycles RT) 1-51.5
J. Taylor (Plowman Craven RT) 1-55.1
R. Gough (Chippenham & Dist Wh) 1-57.6
M. Clinton (Mike Vaughan Cycles) 1-59.9
Team.- Evans Cycles RT (Jody Crawforth, Jamie Newall 2-02.4, Justin Hoy 2-12.9) 6-06.8. Veterans.- Gary Dodd. Women.- Anna Grundy (Lea Valley CC) 2-48.6. Juniors.- Brad Butler (South Eastern RC) 2-12.3.
Thank you for reading 20 articles this month* Join now for unlimited access
Enjoy your first month for just £1 / $1 / €1
*Read 5 free articles per month without a subscription
Join now for unlimited access
Try first month for just £1 / $1 / €1