Bellis transferred to London hospital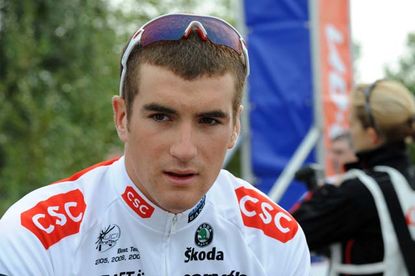 Jonny Bellis has been transferred to a London hospital from Italy, British Cycling revealed on Monday, as he continues to recover from his scooter accident.
In a statement issued on Monday, British Cycling said: "Jonny Bellis has now been transferred to a hospital in London where he has been assigned his own physiotherapist. A rehab programme has begun and doctors at the hospital have confirmed that he is stable and progressing well."
21 year-old Bellis crashed heavily while riding his scooter on September 19 near his base in the Tuscan town of Quarrata. He suffered serious head injuries, was placed in a medically-induced coma and underwent several operations. He has since recovered well and was deemed fit to travel back to Britain last week.
Since his accident, staff and fellow riders from British Cycling often visited Bellis on hospital and assisted his parents in Italy. Max Sciandri and Mark Cavendish travelled to Florence to see Bellis most days, with Cavendish delaying his holidays until Bellis was back in Britain.
Bellis rode for Saxo Bank in 2009 after graduating from the Great Britain Under 23 Academy. He finished third in the 2007 under-23 world championship road race in Stuttgart, Germany.
Thank you for reading 20 articles this month* Join now for unlimited access
Enjoy your first month for just £1 / $1 / €1
*Read 5 free articles per month without a subscription
Join now for unlimited access
Try first month for just £1 / $1 / €1