BETTINI HITS THE BOARDS AT MILAN BIKE SHOW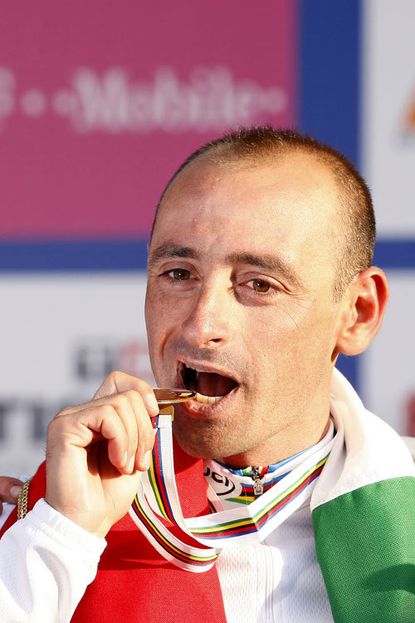 World road race champion Paolo Bettini will switch to the track for the last race of his season on Thursday, riding in a special four-day event at the Milan bike show.
Bettini will ride the event with track specialist Marco Villa, taking on nine other pairs of professional riders and six amateur pairs. In two-hour sessions designed to entertain the crowds at the Milan bike show, the riders will contest sprints, Madison and even derny events.
Other teams include Filippo Pozzato and Tour of Flanders winner Alessandro Ballan, Lampre sprinter and track specialist Danilo Napolitano, who is paired with Fabio Baldato, Yaroslav Popovych teams up with Zagorodny.
The 200-metre track has been built in the last ten days by specialists from Brema in Germany using Siberian beech wood for the boards. The track is tight with only 70m straights and frightening 53 per cent banking, meaning the riders have to use 165cm cranks to avoid crashing. The whole event has cost 400,000 pounds, with Bettini?s fee estimated at 80,000 pounds. The racing is free for whoever visits the Milan bike show and so huge crowds are expected with seating for 2000 spectators.
Bettini rode the Grenoble and Munich six-day last year but was surprised how steep the Milan track is.
?If things get too bad we?ll put some mattresses at the bottom of the track. I?ll tell my sponsor Innergetic and we?ll use the slogan, 'the mattress that saves the track rider?s lives,'? Bettini joked.
Ballan was also worried about the steep track, making it clear he prefers the Roubaix velodrome after the hell of the north. ?Mamma mia?You?re better off not looking up. It didn?t seem that steep in the photographs I saw,? he said.
If you are in Milan for the bike show, the racing series will be held in Hall 7 and consists of two sessions on Thursday and Sunday (11:00-1:00 and 3:00-6:00) and three on Friday and Saturday (11:00-1:00, 3:00-6:00 and 7:30-21:15).
For more information see the official event website at www.eicma.it.
Thank you for reading 20 articles this month* Join now for unlimited access
Enjoy your first month for just £1 / $1 / €1
*Read 5 free articles per month without a subscription
Join now for unlimited access
Try first month for just £1 / $1 / €1