Bicycle post service trials new post box in Bristol
The Velopost service, which operates in Bristol, Bath and Edinburgh, is looking to expand from businesses into residential deliveries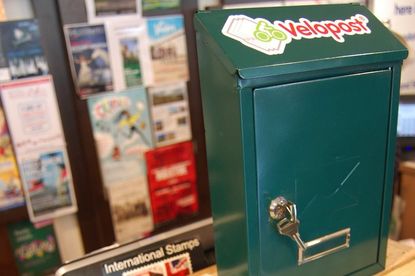 A bicycle post service is all set to trial its first public post box in Bristol.
Velopost, which currently covers businesses in Bristol, Bath and Edinburgh, offers what it describes as a "fossil fuel-free postal service", and will be installing the box on May 29 in the city's tourism office.
The service will be hoping to buck the Bristol trend, given that Royal Mail recently withdrew its final remaining post bikes from the city.
>>>Bristol Grand Prix: crowd-funding helps create new bike race
Velopost uses its own stamps, which it says are up to 40% cheaper than Royal Mail, and also offers a twice-daily electric vehicle service - a branded Nissan Leaf - between Bristol and Bath.
It has been running for four years and delivers around a million letters per year, although until now, its service has been confined to organisations with dedicated offices for post collection.
With the new post box, however, and a proposed expansion across Bristol, it is now in a position to make deliveries to everybody in the city.
Thank you for reading 20 articles this month* Join now for unlimited access
Enjoy your first month for just £1 / $1 / €1
*Read 5 free articles per month without a subscription
Join now for unlimited access
Try first month for just £1 / $1 / €1