BIG TEAMS TO RACE AT AINTREE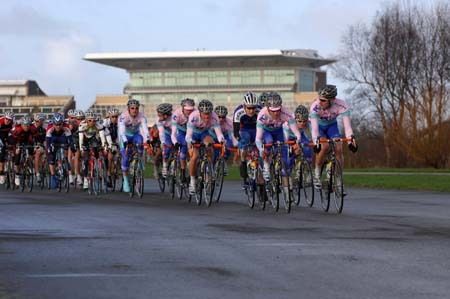 The top British teams will be slugging it out at Aintree racecourse on March 1 for the 47th running of the Eddie Soens Memorial race.
With Plowman Craven fielding 10 riders and Rapha ? Condor ? Recycling entering the entire squad of 14, the scratch group in the famous early season handicap will be a sea of pink and black jerseys.
Three-times winner Tony Gibb was disappointed with his third place in last year?s race, losing out to youngsters Ian Stannard and Alex Dowsett (both of 100% ME) who will again line up at Aintree. With Gibb, James McCallum and Simon Gaywood in the ranks, the Plowman Craven team will be in with a shout.
Let?s hope the team building has been going well as Rapha ? Condor and Recycling come together and field a phenomenal 14 riders. Chris Newton won in 2003 and should have the starring role but with a plethora of supporting actors ? and Kristian House and Dean Downing lurking in the wings ? the black-clad boys must fancy their chances.
Steve Cummings is the only rider to have won the Soens as a junior (1999) but watch out for 17-year-old Luke Rowe, showing early season form with third place at the Perfs Pedal Race.
If the major players slip up, the Sigmasport trio of Matt Stephens, Neil Swithenbank and James Williamson will be ready to pounce.
Entries are open until February 22 so expect some more big-hitters to join the fray at the famous racecourse.
EDDIE SOENS MEMORIAL RACE: START LIST
James Jackson, Plowman Craven RT, 1
Tony Gibb, Plowman Craven RT, E
Simon Gaywood, Plowman Craven RT, E
James Millard, Plowman Craven RT, E
James McCallum, Plowman Craven RT, E
Simon Richardson, Plowman Craven RT, 1
Alex Higham, Plowman Craven RT, E
Tom Barras, Plowman Craven RT, E
Evan Oliphant, Plowman Craven RT, 1
NeilColeman, Plowman Craven RT, 1
Chris Newton, Rapha-Condor Recycling.co.uk, E
Dean Downing, Rapha-Condor Recycling.co.uk, E
KristianHouse, Rapha-Condor Recycling.co.uk, E
RobPartridge, Rapha-Condor Recycling.co.uk, E
GrahamBriggs, Rapha-Condor Recycling.co.uk, E
Dale Appleby, Rapha-Condor Recycling.co.uk, E
Ryan Bonser, Rapha-Condor Recycling.co.uk, E
Adam Bonser, Rapha-Condor Recycling.co.uk, E
Simon Holt,Rapha-Condor Recycling.co.uk, E
Tom Diggle,Rapha-Condor Recycling.co.uk, E
BenGreenwood,Rapha-Condor Recycling.co.uk, E
Rhys Lloyd, Rapha-Condor Recycling.co.uk, E
Matt Rowe, Rapha-Condor Recycling.co.uk, E
Luke Rowe, Rapha-Condor Recycling.co.uK, E
Liam Wild, MK Cycles, 3
David Meakin, Bob Jackson RT, 4
Daniel Drake, Lancashire RC, 2
AndrewWilliams, Cwmcarn Paragon RT, 1
RichardHepworth, Wakefield CC, 1
John Martindale, Lancashire RC,4
Philip Graves, BC PM, 2
Kit Gilham,Kinesis UK,1
Matthew Limacher,Onimpex Bioracer RT, 2
DanWalker,Clayton Velo, 2
Stephen Rudkin,FP Mailing CT, 2
Steve Abbott, Red Rose Olympic,2
Tom Black,Team Isle of Man, 4J
James Sampson, Kinesis UK,1
Carl Johnston, Warrington RC, 4
Tony Workman,Lancashire RC, 2
DominicJelfs, MJS Racing, 1J
ChristopherWhorrall, Manx RC, 2J
AndrewFenn, Dolan RT,1J
Mike Cuming, Macclesfield Wheelers,2
Tomas Skubala,Dinnington RC, 1
Daniel McLay, Leicestershire RC,2J
Shaun Pearson,Ribble Valley CRC, 2
Louise Murray,Ribble Valley CRC, 4W
GrahamPayne, Preston CC, 2
SueClarke,BC PM, 3W
Mark Lovatt, Planet X RT,1
Darren Tiffen, MTS-Inkland,2
Jonathan Farnaby, Crosstrax,2
James Williamson, Sigmasport,1
Colum O'Shea, Team Isle of Man, J
Tom Last, Kinesis UK, 1
Matt Cronshaw,Kinesis UK,E
Ashley Finn,Pearl Izumi-Planet X, 1
StewartDwyer,St Helens CRC, 3
Stuart Wearmouth,Picarsso-Pulman RT,2
Gary Wearmouth,Picarsso-Pulman RT,3
Martin Freeman,Team Corley Cycles,1
KarlFreeman, Team Corley Cycles, 1
Mark Russell, Maxgear RT, 4
Alexandra Greenfield, Pinarello RT, JW
Paul Thursfield,Crewe Clarion, 4
RobPugh, FP Mailing CT,1
NeilSwithenbank, Sigmasport, E
Emma Trott, Team Halfords Bikehut,1W
Simon Wilson, Arctic-Premier RT, 1
TimWoods,BC PM, 3
Mark Christian,Manx RC, J
LeeDurkin,Southport CC, 4
Steve Golla,Sigmasport,1
Matthew Stephens, Sigmasport,E
David Pettit, Birkenhead North End CC, J