Book your sportives with UKCE this week and get a £10 Amazon gift card
Plan your season's sportives and receive money off your cycling kit with a £10 Amazon gift card.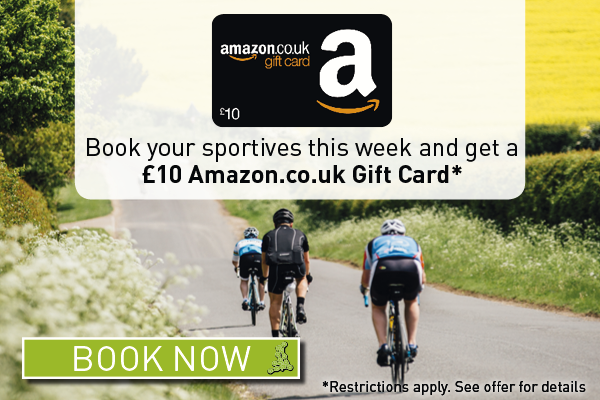 UK Cycling Events are running an offer this week in which they are giving away a £10 Amazon gift card across nearly their entire range of sportives.
Offer ends midnight Wednesday 11th April 
UK Cycling Events organise over 70 events a year in the UK. Click here to find out more about the events they run and to take advantage of this great offer.
Their events include some of the best sportive series in the UK including:
Adventure Cross Series
The Adventure Cross Series feature interesting and challenging multi-terrain rides across trail, bridleways and lanes. Including flagship events Moors and Shores and the Lakeland Monster Miles.
Altura Road Series
The Altura Road Series is new for 2018 and includes five very popular sportives across the country from the Forest of Bowland in April to the Fell Beast in September. The Altura Le Classique promises to be a highlight of the Altura Road Series as riders travel across the English Channel for a memorable day of riding in the French countryside.
Brewin Dolphin Velo Series
The Brewin Dolphin Velo Series is a series of six road cycling events in the New Forest, Oxfordshire, the Peak District, Scotland, Surrey and Wales. Each event offers riders the chance to experience some of the most picturesque riding backdrops the UK has to offer and unique to this series is the Brewin Dolphin Velo Club for those riders wanting the ultimate VIP sportive experience.
Sigma Sport Challenge Series
The Sigma Sport Challenge Series is a new partnership with Sigma Sports for 2018 and brings together some of your favorite Cycling Weekly Series Rides, including the popular Wiltshire WildCat, CW125 and the Box Hill Original along with adding a couple of other rides into the mix.
Wiggle Super Series
The Wiggle Super Series has the most amount of Sportives and MTB events to its name under UK Cycling Events' watch with 40+ sportives taking place each calendar year. From January to December and from leg-busting climber's rides to long-ranging distance events, this series is represented all over the country… and beyond. Up there with the most popular on the calendar of the Super Series are the New Forest Spring sportive, MagnifiCat ride, South Downs 100 event and cycling day trips across the English Channel.
So wherever you want to ride and whatever sort of event it is you are interested in, you will be able to find an event that suits you.
>>Training for a 100-mile sportive: tips to get you from 60 to 100-miles
Most events will include three ride distances to suit different abilities – short, standard and epic. Riders can also expect well-signed routes, feed stations along the route with support from official nutrition provider SIS, on the day mechanical support from Lezyne, and the option to buy a post-ride massage from Six Physio.
Find the perfect event for you and get a £10 Amazon gift card to spend on new cycling kit.