'We're not doing this to turn it into a race track': Box Hill goes one way for Easter after trial success
The Zig Zag road will be one way from Friday March 30 until Monday April 2, but cyclists are asked not to use it as an excuse for an up hill time trial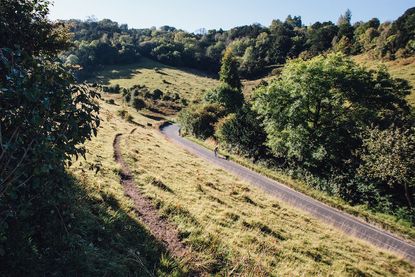 The famed Zig Zag road of Box Hill will become a one way street over the Easter weekend for the second year running.
The climb, which featured in the 2012 Olympic road race and is the last real hurdle of the RideLondon-Surrey 100 sportive, was made one-way only over Easter last year, too, in a trial run.
Countryside manager Andrew Wright commented at the time that the strategy would be repeated if "successful". For 2018, the road will be one-way - with no vehicles allowed to descend the Zig Zag towards Old London Road - from Friday March 30 until Monday April 2.
Speaking to Cycling Weekly on Wednesday, Wright was keen to promote the message that the approach is designed to make the area more pleasant for everybody, not just to allow cyclists to ride up the hill as fast as possible.
"We do want to manage the expectations of cyclists," he said.
"Last year we had some riders who thought 'oh great, I can go down and cut all the corners to beat my Strava time' - and they were quite disappointed that there were lots of cars going up the climb, people walking across the road and so on."
The official Box Hill segment has been ridden by 87,556 Strava using cyclists, the KOM currently held by Edmund Bradbury and QOM Ashleigh Moolman Pasio - so it's clear to see its appeal as a target. However, perhaps one of the busiest weekends of the year isn't quite the right time.
"We're not doing this to turn Box Hill into a race track, but because we want to manage the chaos we've had in previous years caused by people parking on verges," Wright said.
The car park can't be expanded due to natural habitats in the area - and Wright is a huge fan of people using two wheels to get there, saying: "it would be lovely if everyone cycled to Box Hill."
Unfortunately, driver behaviour, means they have to "limit the Easter activities put on to dissuade people from coming."
Wright added: "[Drivers visiting] just park on the verge, so if it's two way it causes issues when people can't pass, and sometimes we've ended up in situations where there wouldn't be space for the emergency services to get through.
"It's mad, if I go to park in town and the car park is full, I park further away - but people come to meet friends and just won't take no for an answer, so they park anywhere."
Co-owner of Destination Bike, the bike shop on Box Hill Road, Geoff Clifton told us: "We very much welcome this move on Box Hill. It allows an increase in the overall use of Box Hill for both cyclists and motorists whilst improving overall safety.
"Given the pressure of numbers on nice weekends it shows great imagination on behalf of Andy [Wright] who manages Box Hill for the National Trust."
Thank you for reading 20 articles this month* Join now for unlimited access
Enjoy your first month for just £1 / $1 / €1
*Read 5 free articles per month without a subscription
Join now for unlimited access
Try first month for just £1 / $1 / €1