Brailsford confident Bradley Wiggins will claim Hour Record
Sir Dave Brailsford says Bradley Wiggins's Hour Record attempt won't be affected by the pressure on him to smash Alex Dowsett's record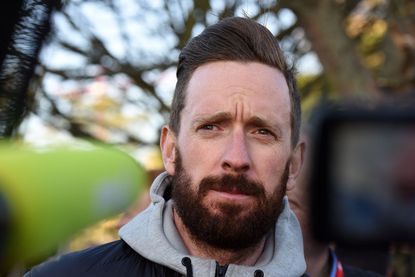 Sir Dave Brailsford is backing fellow knight Bradley Wiggins to break Alex Dowsett's new Hour Record mark on June 7, saying the former Team Sky rider will not be fazed by the weight of expectation on his shoulders.
Dowsett set his new mark of 52.937km in Manchester on May 2, beating Rohan Dennis's old mark by over 400m and said he may be willing to have another attempt if Wiggins, or anyone else, breaks his record.
For Wiggins, however, June 7 marks a one-off occasion where he is widely expected to put the record 'on the shelf', and Brailsford is confident the world time trial champion will walk away a record holder.
"Bradley is going well," he told Sky Sports News. "He has been training on the pace that he hopes to hold for an hour.
"He has been working back at the Manchester velodrome, so he is in very good hands. It is building up to a big event on June 7, there is going to be a capacity crowd, it is live on TV and I think everybody is expecting him to set the bar.
"When you expect to see a fantastic performance it's often difficult to deliver and execute that performance to that level but Bradley is one of the few people who time and time again can do that. It's going to be exciting."
Wiggins told the Guardian after Dowsett's successful record bid that he was confident of beating the mark, with his training seeing him lapping at a 54kph rate, with the option to go up to 55km.
"Based on what I've been doing in the last three weeks I should be quite a way ahead of that," he said. "We've been training on 54 [km] dead as a guide but it could go one kilometre further or 500 metres shorter depending on conditions on the day."
Thank you for reading 20 articles this month* Join now for unlimited access
Enjoy your first month for just £1 / $1 / €1
*Read 5 free articles per month without a subscription
Join now for unlimited access
Try first month for just £1 / $1 / €1