The most amazing thing about Dowsett's Hour? He could have gone faster
For the past six months, Bradley Wiggins's name has dominated talk of the Hour Record — but Alex Dowsett has given even him something to think about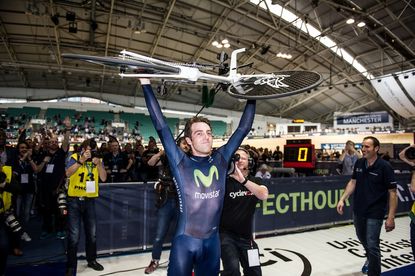 Alex Dowsett's Hour attempt was branded to within an inch of its life as "The Perfect Hour". And when he broke the record – he added 446m to the previous mark of Rohan Dennis to finish with 52.937km – and with as much insouciance as he did, it was hard to argue with the hype.
It's the degree of precision and control for which this ride will be most remembered. His team said they wanted him to ride very conservatively for the first 45 minutes of the hour. And it was so. His first lap off the standing start took more than 25 seconds, which was probably the slowest opening lap ridden by an elite male rider since Manchester Velodrome opened in 1995.
He eased up to record pace over almost four laps. And when he got there, he rode like a robot – 17.0 second lap splits that almost never varied, which was exactly what was needed, no more, no less. Once, in the entire hour, did his split drift out to 17.1. The only real blip was a sudden injection of pace at about 33 minutes, when he pulled level with the previous record. "I got a bit over-excited at that point," he said later. It didn't last long – trackside coach Steve Collins roared at him to "slow down!" He did.
Only at ten minutes to go did Dowsett take the corset off, and he quickly accelerated to 16.6 sec laps – over 54kph. Even that was an extravagance – he was only supposed to pick it up at five minutes to go. He finished with a sprint that took his lap splits up to most of 60kph. Then he got off his bike and said, "I expected it to be horrendous, and it was only terrible." He gave the impression he'd had plenty of spare time in the previous hour to think of snappy one-liners.
This felt more like an opening act than a final number. Most Hour riders, including the successful ones, when asked immediately after their ride if they'd do it again, say "no." Or more usually, "NOOOO!" Dowsett said, "I don't see why I wouldn't want to do it again – I've enjoyed it. I want to make my name on the road too, get into the Tour team this year, but the Hour record is something I could specialize in."
One of his coaching staff even said it was a pity he couldn't do it again 48 hours later, knowing what he now knew about riding for an hour, and letting himself off the leash earlier in the ride. There is clearly more in there – he was obviously frustrated not to have cracked 53km, something he could have done merely by starting his finishing effort a couple of laps sooner.
But the real question is, what would he have done with a less conservative first fifty minutes? The schedule was tailored completely around the existing record, not around what Dowsett himself might be able to do. Could he manage another 500m? Almost certainly. Another kilometre? Quite possibly. And that's as things stand right now. Not only is there technology left to explore, but Dowsett is a relatively young rider at 26. Time triallists often don't reach their prime until their thirties.
All Hour eyes are now on Sir Bradley Wiggins, whose plans for an attempt this June have loomed over the recent spate of attempts. And he'll be very likely to beat Dowsett's mark. But, assuming Wiggins cares about setting a record that will last the way many observers expect it to, the idea of an improving Dowsett will already be looming over Wiggins.
Dowsett's ride on Saturday was probably not a Perfect Hour at all. It was merely a Very Good one. How far he might go on a perfect ride adds an intriguing element to the Hour record.
Thank you for reading 20 articles this month* Join now for unlimited access
Enjoy your first month for just £1 / $1 / €1
*Read 5 free articles per month without a subscription
Join now for unlimited access
Try first month for just £1 / $1 / €1