Alex Dowsett's Perfect Hour: reaction and pictures
Alex Dowsett broke Rohan Dennis's Hour Record, setting a mark of 52.937km in Manchester. Michael Hutchinson caught up with him afterwards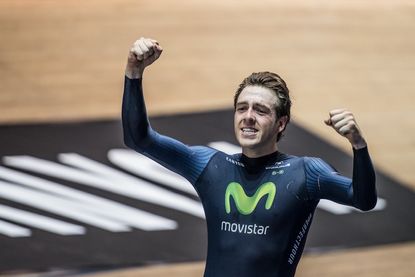 "I wish people hadn't told me how hard it was going to be," said Alex Dowsett after setting a new world Hour mark of 52.937 km, adding 446m to the record of Australian, Rohan Dennis.
"I was scared of the suffering. I was expecting it to be horrendous, and it was only terrible. The first 30 minutes felt quite easy, certainly easier than I'd expected.
"The time seemed to be ticking away pretty quickly. But we'd only ever gone to 35 minutes in training, so the last 25 minutes was always going to be a bit of an unknown.
"We had a plan, which I didn't like. That was to equal Rohan Dennis's record up to 45 minutes. I wanted to do more, but I had to have faith in the coaches. I was continually being slowed down to the pace. The idea was that I could be let loose only in the last five minutes. But I knew at ten minutes that I had it in me, so I pressed on."
Was that when he knew he was going to do it?
"No, it was at half-an-hour, when I pulled in front of Rohan's record, I felt I had a lot left. I knew at that point that I was going to break the record."
The last ten minutes of the ride, when he "let loose", sent the crowd into a sustained roar of approval. Riding each lap at over 54 kph by that point, he was edging closer and closer to breaking the 53km barrier. In the end, of course, he didn't quite get there.
"Yeah, that 70m is a bit annoying, because it was in there," he said.
So would he have another go? "I don't see why I wouldn't want to do it again sometime. I enjoyed it today. This is what cycling is about, for me, the noise of the crowd in the last 10 minutes was huge."
And with a reference to the date of Bradley Wiggins's planned Hour attempt, he added, "Maybe I'll have another go after the June 7."
Thank you for reading 5 articles this month* Join now for unlimited access
Enjoy your first month for just £1 / $1 / €1
*Read 5 free articles per month without a subscription
Join now for unlimited access
Try first month for just £1 / $1 / €1
Michael Hutchinson is a writer, journalist and former professional cyclist. As a rider he won multiple national titles in both Britain and Ireland and competed at the World Championships and the Commonwealth Games. He was a three-time Brompton folding-bike World Champion, and once hit 73 mph riding down a hill in Wales. His Dr Hutch columns appears in every issue of Cycling Weekly magazine
As a writer, he wrote the award winning The Hour about his attempt on the sport's most famous and sought-after record. He followed that up with Faster, about the training, the science the genetics and the luck behind the world's fastest riders, and Re:Cyclists, a history of cyclists from 1816 to the present day.
He's written for outlets ranging from Cycling Weekly to the New York Times, and has presented and and commentated for the BBC, Eurosport, Channel 4, and Sky Sports.
Before he did any of that he was a legal academic at Cambridge and Sussex universities. He now lives with far too many bicycles in London and Cambridgeshire.