Braveheart Craig Wallace on form in Spain
Craig Wallace, a talented young Scot, is one of the few Brits racing this season in Spain and, so far, it's gone well for the 19 year old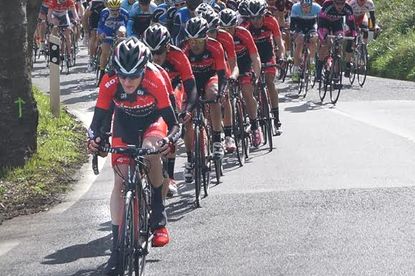 Craig Wallace, an Aberdonian racing in the Basque country this season with help from the Braveheart Fund, has started his season well. The 19-year-old was fourth in his first hilly event in an Under-23 field of 137 riders.
"I was the protected rider for the race which was 120km, it was one big loop followed by 20kms worth of climbing at the end. The first 100km were rolling and a big break got up the road but my team and Caja Rural brought it back just by the bottom of the first mountain. There was a big fight to stay at the front coming into the bottom of the climb, all the big teams had their lead out trains in full formation to try and get their climber to the front."
"My team did a really good job here and I started the climb in the top 10 positions. Unfortunately when the race split up I found myself out front with three guys from the same team and they worked me over with one of them slipping away to take the victory!" explained Wallace later, clearly pleased with his first showing on the Ziruana-Infisport team run by Gorka Beloki, an ex-pro and brother of Joseba who of course rode for both ONCE and Euskaltel.
Wallace spent last year in Belgium, bouncing around the cobbles and gained a lot of experience, but it would appear that the terrain in Spain suits his physique better.
"The teams here really work together which makes the standard of racing very high, unlike in Belgium where it was every man for himself!"
Thank you for reading 20 articles this month* Join now for unlimited access
Enjoy your first month for just £1 / $1 / €1
*Read 5 free articles per month without a subscription
Join now for unlimited access
Try first month for just £1 / $1 / €1