BRIT GOLD RUSH AT MTB WORLDS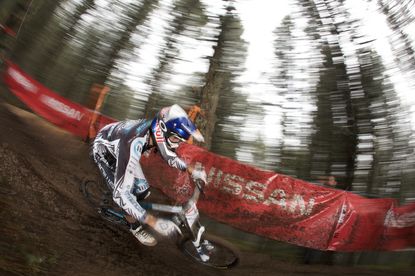 John Kitchiner from CW's sister magazine mbr was at the UCI Mountain Bike World Championships last week in Val di Sole, Italy, here's his report from an amazing day for the British team
YEEESSSS! On a truly remarkable downhill finals day the unthinkable actually happened. Britain won not one, but three ? that?s right THREE ? gold medals.
Gee Atherton took the men?s elite title, sister Rachel the women?s equivalent and Josh Bryceland the junior men?s crown. To further emphasise the total Brit domination, Steve Peat and Sam Dale took silvers in their respective categories to crown an epic day for Team GB. There?s never been a day?s mountain bike racing like it ? and it?ll be a while before we see anything so dramatic again!
First final of the day, playing out as the crowds were building around the course, was the junior women?s event. Predictably the French outclassed their rivals recording a comprehensive podium hat-trick. Then came the junior men.
Everything pretty much went by the card until Britain?s Danny Hart hit the track flying and demolished the previous best time; he took the hot-seat and stayed there until the last handful of riders entered the arena. But then the drama began to unfold. One rider face-planted the massive jump under the Nissan arch and was left temporarily unconscious; this interferred with the following three riders? descents and they were rightfully offered re-runs. The last ten riders, including three more Brits, were left nerviously twiddling their thumbs for 15 minutes while the course was fully cleared and the action recommenced.
First of these Brits down was Sam Dale and by the second split time he was 1.29secs up. He crossed the line in 3:31:06 and duly took Hart?s place in the leader?s chair. Next came team-mate Joseph Smith and, though he didn?t fare quite so well, finished just outside the medal places. Two Kiwis went quick but not as quickly as Dale and he was virtually assured a medal if the re-runs went his way.
Penultimate rider down was Josh Bryceland, the form man and many people?s favourite. Still sporting the scars of a nasty stack at Maribor earlier in the season, Bryceland was on fire, beating the first split by 3.55secs. That lead increased to 6.15secs by the second split and cleaning the loose bottom section safely he finished 7.51secs ahead of Dale. Frenchman Thirion briefly threatened but lost control in the middle of the course, effectively ending his chances of gold; he settled for bronze. Britain had the two top places on a Worlds podium for the first time in history and there were still two more races to enjoy.
As the celebrations and presentations for the juniors were in full swing, the start of the elite women?s race proved a muted affair. Only Japan?s Mio Suemasa looked sharp, posting a time that would leave her fifth by the end. However things didn?t go well for Britain?s Tracy Moseley, winner of the recent Fort William World Cup round. Catching a tree with just under three minutes on the clock, she was clearly winded and lost some 30secs remounting; she was out of contention.
It came down to the last three riders and it was reigning World Champ Sabrina Jonnier?s turn to show some class, finishing more than 10secs up on the field. Jonnier?s compatriot Ragot went close and comfortably sat in second with only Rachel Atherton left in the gate. Looking by far the most fluid through the technical rock gardens, Atherton shattered Jonnier?s first split by 8.78secs. Watching on the big screen, the Frenchwoman couldn?t believe it. Atherton?s second split was 9.23secs up and the Brits were out of their seats.
She crossed the line in 3:49:92, the only woman to go under four minutes, and almost 12secs in front of her arch-rival. Jonnier immediately broke down in tears, horrified at the margin of her defeat, and the Atherton clan was celebrating.
Watch Gee Atherton win the world title
Only the elite men?s race remained and even more drama was to follow. With 99 starters setting off at one-minute intervals, it?s a prolonged affair. Rain was predicted when the riders qualified earlier in the week and it was with one eye on this that former World Champ Fabien Barel had ridden conservatively to secure a mid-pack start. The storms never materialised ? it was another 30-degree scorcher ? and Barel posted a blistering time that only four others would better.
He sat in the hot-seat for 45 minutes until Steve Peat crossed the line 1.45secs faster. As popular on the continent as he is in the UK, Peat was in familiar territory ? in pole position with just three of his greatest rivals to come. Until reigning champion Sam Hill was on course, Peat looked assured. His worst fears were confirmed though as Hill?s first split was a massive 5.36secs faster. When the Aussie upped that to 6.35secs at the second split Peat feared his chance had once again disappeared. However in yet another twist, with victory in sight, Hill nose-dived through the Nissan jump and barely had time to settle before skidding out on the final off-camber left-hander.
He got back on and amazingly finished only half-a-second behind Peat. Peat breathed a massive sigh of relief and with only Minnaar and Atherton left had began to think it might be his day.
Minnaar rode strongly but still finished a couple of seconds behind Hill. Peat was sensing victory. Gee Atherton had other thoughts though. Like his sister earlier, he handled the boulders and rocks better than anyone and his first split was 2.28secs up on Peat and a medal looked certain. He?d lost a few hundredths by the next check and again Peat briefly looked favourite.
The tension was unbearable, the noise deafening. Taking that dangerous left-hander smoothly, Atherton simply had to bury himself on the last pedally run-in. He?d done enough though and the spoils were his by 2.62secs. The disconsolate Peat was among the first to congratulate the new champion and an almost surreal day?s racing was over. Two more Brits on the same podium!
Three golds and two silvers from three events ? unbelievable. Why can?t downhilling be an Olympic sport?
RESULTS
DOWNHILL ELITE MEN
1 ? Gee Atherton (GB)
2 ? Steve Peat (GB)
3 ? Sam Hill (Aus)
Other Brits: Brendan Fairclough (14th), Ben Cathro (26th), Marc Beaumont (93rd).
DOWNHILL ELITE WOMEN
1 ? Rachel Atherton (GB)
2 ? Sabrina Jonnier (Fra)
3 ? Emmeline Ragot (Fra)
Other Brits: Tracy Moseley (6th), Fionn Griffiths (8th).
DOWNHILL JUNIOR MEN
1 ? Josh Bryceland (GB)
2 ? Sam Dale (GB)
3 ? Remi Thirion (Fra)
Other Brits: Danny Hart (6th), Joseph Smith (11th).
DOWNHILL JUNIOR WOMEN
1 ? Anais Pagot (Fra)
2 ? Myriam Nicole (Fra)
3 ? Melanie Pugin (Fra)
CROSS-COUNTRY ELITE MEN
1 ? Christoph Sauser (Sui)
2 ? Florian Vogel (Sui)
3 ? Ralph Naef (Sui)
Brits: Liam Killeen (4th), Oli Beckingsale (10th).
CROSS-COUNTRY ELITE WOMEN
1 ? Marga Fullana (Esp)
2 ? Sabine Spitz (Ger)
3 ? Irina Kalentieva (Rus)
CROSS-COUNTRY U23 MEN
1 ? Nino Schurter (Sui)
2 ? Burry Stander (RSA)
3 ? Matthias Fluckiger (Sui)
Best Brits: Ian Bibby (27th), Ross Creber (47th), David Fletcher (57th), Ian Field (DNF).
CROSS-COUNTRY JUNIORS MEN
1 ? Peter Sagan (Svk)
2 ? Arnaud Jouffroy (Fra)
3 ? Matthias Rupp (Sui)
Best Brits: Hamish Creber (39th), Alex Paton (47th), Sebastian Batchelor (50th).
CROSS-COUNTRY U23 WOMEN
1 ? Tanja Zakelj (Slo)
2 ? Nathalie Schneitter (Sui)
3 ? Aleksandra Dawidowidz (Pol)
CROSS-COUNTRY JUNIORS WOMEN
1 ? Laura Abril (Col)
2 ? Barbara Benko (Hun)
3 ? Mona Eiberweiser (Ger)
Best Brit: Annie Last (9th)
FOUR-CROSS MEN
1 ? Rafael Alvarez de Lara Lu (Esp)
2 ? Roger Rinderknecht (Sui)
3 ? Mickael Deldycke (Fra)
4 ? Jared Graves (Aus)
Best Brits: Scott Beaumont (6th), Lewis Lacey (12th).
FOUR-CROSS WOMEN
1 ? Melissa Buhl (USA)
2 ? Jana Horokova (Cze)
3 ? Romana Labounkova (Cze)
4 ? Anneke Beerten
Best Brit: Fionn Griffiths (10th).
Thank you for reading 10 articles this month* Join now for unlimited access
Enjoy your first month for just £1 / $1 / €1
*Read 5 free articles per month without a subscription
Join now for unlimited access
Try first month for just £1 / $1 / €1
Founded in 1891, Cycling Weekly and its team of expert journalists brings cyclists in-depth reviews, extensive coverage of both professional and domestic racing, as well as fitness advice and 'brew a cuppa and put your feet up' features. Cycling Weekly serves its audience across a range of platforms, from good old-fashioned print to online journalism, and video.