Britain's Olympic medal winners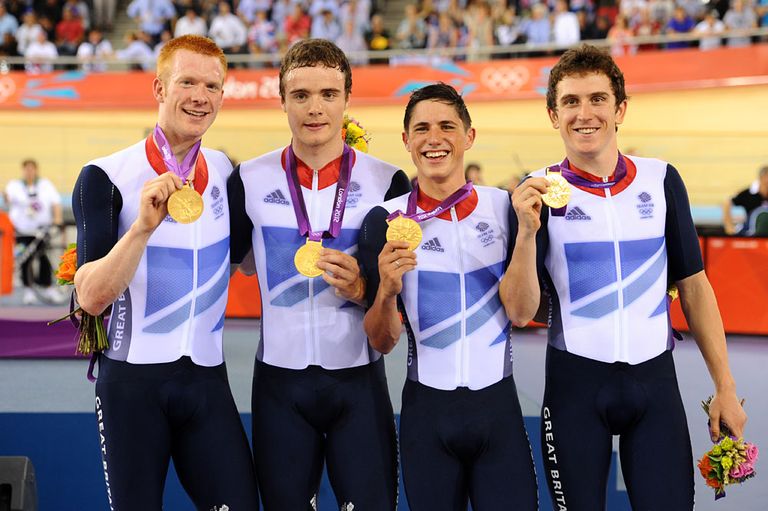 With Britain's seemingly relentless success on the track over recent years, it would be easy to take this success for granted.
Britain's first cycling medal came over a century ago, thanks to Frank Keeping in 1896 in the 12-hour event. Gold medals came in a steady stream for several years to come, until drying up completely in 1920.
It was 72 years until the next Briton, thanks to Chris Boardman in 1992, repeated the success. In 2008, 112 years after Britain's first ever cycling medal, Britain took her biggest ever medal haul.
Britain's cycling medal winners:
GOLD
Frank Keeping (12-hour, 1896)
William Pett (20km, 1906)
John Matthews, Arthur Rushen (2km tandem, 1906)
Victor Johnson (one-lap race, 1908)
Charles Bartlett (100km, 1908)
Benjamin Jones (5km, 1908)
Clarence Kingsbury (20km, 1908)
Clarence Kingsbury, Benjamin Jones, Ernest Payne, Leonard Meredith (team pursuit, 1908)
Harry Ryan, Thomas Lance (2k tandem, 1920)
Chris Boardman (pursuit, 1992)
Jason Queally (kilo, 2000)
Bradley Wiggins (individual pursuit, 2004)
Chris Hoy (kilo, 2004)
Nicole Cooke (women's road race, 2008)
Chris Hoy, Jason Kenny, Jamie Staff (team sprint, 2008)
Bradley Wiggins (individual pursuit, 2008)
Chris Hoy (Keirin, 2008)
Rebecca Romero (individual pursuit, 2008)
Ed Clancy, Paul Manning, Geraint Thomas, Bradley Wiggins (team pursuit, 2008)
Victoria Pendleton (sprint, 2008)
Chris Hoy (sprint, 2008)
Sir Chris Hoy (men's keirin, 2012)
Laura Trott (women's omnium, 2012)
Jason Kenny (men's sprint, 2012)
Joanna Rowsell, Laura Trott & Dani King (women's team pursuit, 2012)
Victoria Pendleton (women's keirin, 2012)
Ed Clancy, Steven Burke, Geraint Thomas & Peter Kennaugh (men's team pursuit, 2012)
Sir Chris Hoy, Jason Kenny & Philip Hindes (men's team sprint, 2012)
Bradley Wiggins (men's time trial, 2012)
Total: 29
SILVER
Herbert Bouffler (sprint, 1906)
Herbert Crowther (one-lap race and 5k, 1906)
Frederick Hamlin, Horace Johnson (2k tandem, 1908)
Frederick Grubb (road race, 1912)
Frederick Grubb, Leon Meredith, Charles Moss, William Hammond (team time trial, 1912)
Horace Johnson (sprint, 1920)
Cyril Alden (50km, 1920 & 1924)
Frank Southall (road race, 1928)
John Sibbitt, Ernest Chambers (2k tandem, 1928)
Frank Southall, John Lauterwasser, John Middleton (team time trial, 1928)
Ernest Chambers, Stanley Chambers (2k tandem, 1932)
Reg Harris (sprint, 1948)
Reg Harris, Alan Bannister (2k tandem, 1948)
Alan Jackson, Arthur Stanley Brittain, William Holmes, Harry Reynolds (team prize in men's road race event, 1956)
Chris Hoy, Craig MacLean, Jason Queally (team sprint, 2000)
Steve Cummings, Rob Hayles, Paul Manning, Bradley Wiggins, Bryan Steel (team pursuit, 2004)
Emma Pooley (women's time trial, 2008)
Ross Edgar (Keirin, 2008)
Wendy Houvenaghel (individual pursuit, 2008)
Jason Kenny (sprint, 2008)
Victoria Pendleton (women's sprint, 2012)
Lizzie Armitstead (women's road race, 2012)
Total: 23
BRONZE
Edward Battel (road race, 1896)
Colin Brooks, Walter Isaacs (2k tandem, 1908)
Harry Ryan (sprint, 1920)
Frederick Wyld (50 km, 1924)
Frederick Wyld, Leonard Wyld, Percy Wyld, George Southall (team pursuit, 1928)
Ernest Johnson, William Harvell, Frank Southall, Charles Holland (team pursuit, 1932)
Harold Hill, Ernest Johnson, Charles King, Ernest Mills (team pursuit, 1936)
Thomas Godwin (kilo, 1948)
Alan Geldard, Thomas Godwin, David Ricketts, Wilfred Waters (team pursuit, 1948)
Ronald Stretton, Alan Newton, George Newberry, Donald Burgess (team pursuit, 1952)
Alan Jackson (road race, 1956)
Donald Burgess, Michael Gambrill, John Geddes, Tom Simpson (team pursuit, 1956)
Mick Bennett, Ian Hallam, Ron Keeble, William Moore (team pursuit, 1972)
Ian Banbury, Michael Bennett, Robin Crocker, Ian Hallam (team pursuit, 1976)
Max Sciandri (road race, 1996)
Chris Boardman (time trial, 1996)
Yvonne McGregor (individual pursuit, 2000)
Jonny Clay, Paul Manning, Bryan Steel, Chris Newton, Rob Hayles, Bradley Wiggins (team pursuit, 2000)
Rob Hayles, Bradley Wiggins (madison, 2004)
Chris Newton (points race, 2008)
Steven Burke (individual pursuit, 2008)
Ed Clancy (men's omnium, 2008)
Chris Froome (men's time trial, 2008)
Total: 23
Related links
Cycling Weekly's Olympic Games section