British Cycling announces measures to rescue road racing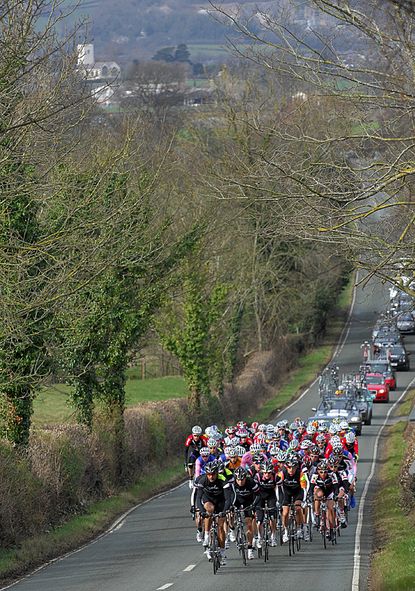 British Cycling have today announced what it is doing to safeguard the future of racing on the British highways.
The sport's governing body has come under increasing pressure this year after several high profile races had been cancelled. Most damaging to the future of the sport was when the Bikeline Two-Day Premier Calendar race was halted by the Police as riders consistently crossed the white line.
The press release says:
British Cycling has continued to progress its work on behalf of the cycling community to resolve the issues and threats to road racing in the UK. For some time now, British Cycling has been lobbying the relevant Government authorities whilst also looking at the changes that are needed to be made within the sport itself and the extra support required for organisers and event volunteers.
Following the cancellation of a number of events in March, British Cycling has stepped up the dialogue with Government and has recently been informed by the Department for Culture, Media and Sport (DCMS) that a working group has been formed with the Home Office and the Department for Transport to consider the steps that can be taken to resolve the issues we are facing.
In a letter to British Cycling, Gerry Sutcliffe MP, Minister of Sport, DCMS, confirmed:
?My department is committed to doing all it can to ensure a bright future for British Cycling Road Races, especially in light of the fantastic performances by our cyclists last year, none more so than Nicole Cooke?s Gold in Beijing.?
?I can assure you that officials in my Department are working with the Home Office and the Department for Transport to discuss the steps which can be reasonably taken to ensure the best outcome for British Cycling and will be establishing a working group. As part of this process we will ensure British Cycling is consulted on the issues they face as we look to resolve them.?
In addition, British Cycling can confirm that it will be investing additional resources to accelerate this work at a National and Regional level as part of its 2009-2013 plans which are due to be announced shortly.
The increased investment will include:
* The appointment of an Events Policy Officer to complement the work that is now ongoing within the Government in relation to securing the long-term future of cycle sport on the highway.
* The deployment of ten full-time Regional Events Officers who will increase the support for the volunteer workforce who deliver our events programme and will also support the delivery of new regular quality club competition (all cycle sport disciplines) at a regional level.
* A National Championship/Series Co-ordinator will be appointed to increase our capacity, support existing event organisers and to review all our Championships for the 2010 season to make them more commercially viable and sustainable in the future.
* Increased training and education opportunities for existing and new event officials including the expansion of the Community Safety Accreditation Scheme to legally enable accredited Marshals to stop traffic during Road Races.
The problems being faced by events on the highway have been raised as part of UK Sport?s ?Mission 2012? initiative which has been developed to help each Summer Olympic and Paralympic sport understand how it is progressing against certain key criteria and identify anything that might stand in the way of success in 2012.
It has been confirmed to UK Sport as part of Mission 2012 that British Cycling?s ability to win medals in Beijing and London is being compromised significantly by a year-on-year weakened calendar of road races, and in the context of a ?no-compromise? ethos adopted by the DCMS in relation to London 2012 we simply can not allow this situation to continue and there now has to be a concerted effort by all the Government Departments and agencies to resolve this once and for all, creating a positive, nationally accepted and interpreted environment where sporting events on the highway can progress.
Ian Drake, British Cycling?s CEO commented: "The law and issues around road racing are complex and it will take time to resolve, however, with the backing and support of Government, UK Sport and Sport England and the increased investment from British Cycling, we can now drive forward the necessary changes required.
"British Cycling is determined to play its full part in bringing about the right solutions which will allow this great sport to survive and flourish in the future."
RELATED LINKS
Police stop Bikeline Two-Day
Tour of Wessex race cancelled
Premier Calendar: What next for the British race series?
Halfords to sponsor Premier Calendar
Thank you for reading 20 articles this month* Join now for unlimited access
Enjoy your first month for just £1 / $1 / €1
*Read 5 free articles per month without a subscription
Join now for unlimited access
Try first month for just £1 / $1 / €1