British cyclist smashes world record for fastest time to ride length of South America
Former soldier Dean Stott surpasses previous record for cycling the length of South America by 10 days as part of a longer ride to set a new record for the Pan American Highway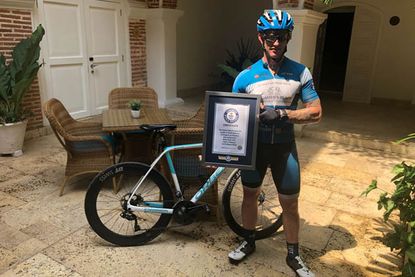 A former British special forces solder has set a new record for riding the length of South America, smashing the previous record by 10 days.
Dean Stott completed the journey on Wednesday, March 21, setting a new Guinness World Record of 48 days and 54 minutes having started on February 1. The previous record was set in 2009 of 58 days, 3 hours and 45 minutes.
Remarkably, Stott also surpassed the record for the quickest time to navigate the route by a duo, which stands at 49 days, 23 hours and 43 minutes.
Stott set the new record as part of a longer challenge: to cycle the entire Pan American Highway, from the tip of South America in Argentina all the way north to Alaska and taking in 22,000 kilometres.
He hopes to complete it in less than 117 days to beat the 2015 mark set by Mexican cyclist Carlos Santamaria Covarrubias.
https://www.youtube.com/watch?v=zEqIKbhFJIE
Stott is undertaking the mammoth challenge in aid of mental health charity Heads Together, and hopes to raise over £1million when his ride is completed.
"It has been a gruelling journey so far, and both a physical and mental battle," said Stott.
"The support of my wider team has been invaluable, but the hard work has only just begun, and there is still a long way to go.
"I'm hugely proud to break the South American World Record and even more determined to smash the Pan American Highway record too, raising money and awareness for the Heads Together charity partners and mental health issues overall."
You can follow Stott's journey with live updates via his website.
>>> Team of British cancer survivors aiming to set new RAAM cycling record
Stott says that he was inspired by HRH Prince Harry, whom he trained with while on military service and the two became friends.
A serious knee injury due to a parachuting accident cut Stott's time in the Special Forces to a premature end, and he struggled to adapt to civilian life which led him to embark on the challenge to raise awareness for mental health issues. He is being supported by St James's Place Charitable Foundation.
Thank you for reading 5 articles this month* Join now for unlimited access
Enjoy your first month for just £1 / $1 / €1
*Read 5 free articles per month without a subscription
Join now for unlimited access
Try first month for just £1 / $1 / €1