Campaigners seek better cycle provisions on dangerous Streatham road
A23 in Streatham, London, should have traffic-calming measures to ensure safety of cyclists and pedestrians after numerous incidents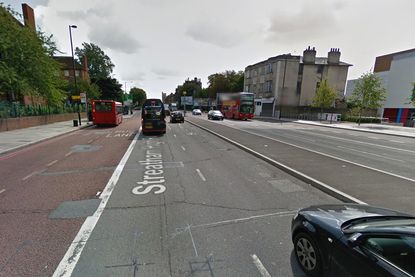 (Image credit: Google Maps)
Cycle lanes and measures to reinforce the speed limit are just some of the wishes that campaigners want to see implemented on an incident-prone London road.
The A23 in Streatham, in the Lambeth area of the capital, is three lanes wide and has been the scene of numerous road traffic incidents in recent years.
Some of these incidents have involved cyclists as well as pedestrians. In June 2008, a French cyclist died on the main road, although the 20-year-old's death occurred nearer to the Brighton end of the road.
The issue of road safety around Streatham has prompted local resident Charly Lewis to set up a petition that is demanding Lambeth Council and TfL make drivers more aware of the 30mph speed limit and also introduce traffic-calming solutions.
>>> London's most dangerous cycling junctions revealed
"I've lived in the area for two years and I've lost count of the number of accidents, many of which are fatal, that I've witnessed… I've seen accidents with cyclists," the petition creator told Radio Jackie.
"We need more signs showing that it's 30mph. There's huge stretches of the A23 where people don't know the limit and because it's a wide road people think it's a national speed limit."
Lambeth is often referred to as 'London's deadliest borough' and in a bid to combat the unwanted tag, urgent action needs to be taken.
Research has shown that half of the road's users exceed the speed limit and Charly wants to see "more speed cameras, pedestrian crossings and cycle lanes put in."
Thank you for reading 20 articles this month* Join now for unlimited access
Enjoy your first month for just £1 / $1 / €1
*Read 5 free articles per month without a subscription
Join now for unlimited access
Try first month for just £1 / $1 / €1