Cancellara's training ride crash caught on camera in mass pile-up at Trek camp (video)
A 10 rider crash at Trek Factory Racing's training camp sees Riccardo Zoidl break his collarbone, with the incident caught on Fabian Cancellara's camera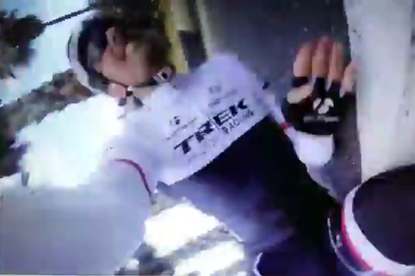 Fabian Cancellara's luck with crashes doesn't seem to be getting any better, with the Swiss rider one of 10 to hit the tarmac in the first 30 minutes of Trek Factory Racing's first ride of their winter training camp.
Cancellara's 2015 season was disrupted by two major crashes, breaking his back on both occasions. First, a tumble at E3 Harelbeke ruled him out of the Classics season, before a mass crash at the Tour de France knocked him out of the race while wearing the yellow jersey.
In pain, but seemingly uninjured, Cancellara got up pretty quickly. The same could not be said for Riccardo Zoidl, who suffered a four-part fracture of his left collarbone.
"We knew that this roundabout was slippery as 4-5 guys crashed in the group ahead of us and so we took it easy," Zoidl said of the crash.
"I was sliding a little bit, but I could handle it and thought I was safe and then my teammate next to me crashed and went directly into my front wheel and I flipped over. We were not going fast, maybe 10-15km/h, but it was really, really slippery. I think a total of 10 of us crashed there.
"I was super disappointed in the first five minutes after it happened, but now I have come to terms with it. This is the second time for me and I was really nervous the first time I broke my collarbone, but now I know what to expect with the rehab. It's a shame that it was a short training camp for me, but everything in life has a reason."
Cancellara is entering his final season as a professional, having announced he will retire at the end of 2016.
Thank you for reading 20 articles this month* Join now for unlimited access
Enjoy your first month for just £1 / $1 / €1
*Read 5 free articles per month without a subscription
Join now for unlimited access
Try first month for just £1 / $1 / €1