Carlos Sastre's Cervélo R5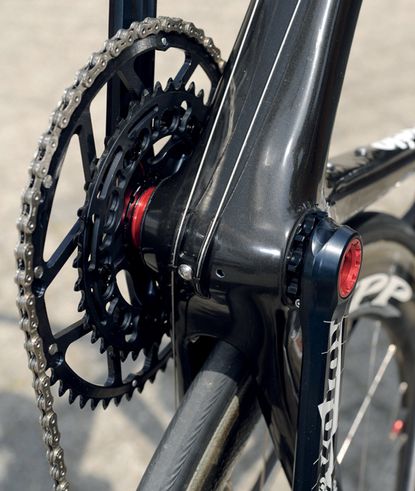 Carlos Sastre rode a Cervélo R5 at this year's Tour de France, a new bike formally known as Project California. Using a similar frame design to the R3, the big additions are the BBright bottom bracket and a 1 3/8in tapered headset bearing for increased front-end stiffness, all with a weight of under 700g.
The BBright concept pushes the non drive bearing out to further increase axle rigidity without affecting Q-factor. The asymmetrical down tube is bigger at the head tube and because of the BBright, has an extra wide pedalling platform. The BBright also affects the seat tube that is now asymmetrical and widened, as is the non-drive side chainstay.
Sastre will also be using the latest must-have Tour accessories, SRAM Red LTE, the Limited Tour Edition groupset from SRAM but we shot his bike before it had been delivered. Sastre's R5 uses fairly standard equipment but there is definitely an air of lightweight design about the bike. The light and low front end uses a 3T ARX Pro special edition stem with a 17 degree angle and 12cm length.
Most riders in the Tour opt for alloy bars for security after crashes, something that has been rife this year, but Sastre has opted for a Rotundo Team carbon bar due to its low weight. A firm believer in Rotor cranks and rings, Sastre is once again riding the company's top-end and lightest version, the 3D, but in the BBright design with titanium axle Speedplay Zero pedals continuing the theme.
Pictured here with Zipp 404s, expect to see the lightweight 202s as the Tour hits the mountains, Sastre's natural territory.






Sastre is a believer in the idea of elliptical chainrings and these Rotor Rings are from the range-topping 3D line.






Seat tube is asymmetrical and widened, in line with the BBright concept.






The BBright system further pushes out the non-drive side bearings to maximise axle stiffness.






Standard SRAM Red groupset was fitted to Sastre's bike here but it was replaced with the exclusive new SRAM Red Limited Tour Edition (LTE).






This article first appeared in Cycling Weekly magazine Thursday 15th July 2010
Thank you for reading 20 articles this month* Join now for unlimited access
Enjoy your first month for just £1 / $1 / €1
*Read 5 free articles per month without a subscription
Join now for unlimited access
Try first month for just £1 / $1 / €1