CAV AND KENNAUGH TAKE MADISON CHAMPS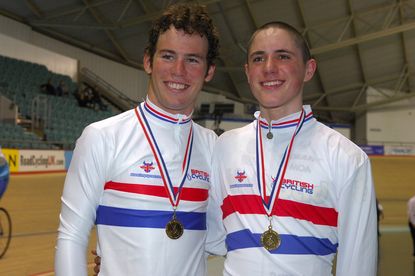 Nine Teams - High Road, SIS, Cwmcarn Paragon, Dolan, 100% ME, Manx Road, Isle of Man, Corridori and Agisko - lined up for the 50 kilometre (200 lap) National Madison Championship in Manchester on Sunday morning.
With Bradley Wiggins still suffering from an illness carried over from the Tour of California, Peter Kennaugh pulled on the High Road colours for the day to partner Mark Cavendish.
Main challengers on the day proved to be Johnny Bellis and Andrew Fenn in Isle of Man colours and Alex Dowsett with Steven Burke representing 100% ME.
Racing was steady for the opening laps with Cavendish and Kennaugh picking up the first sprint points. Their intentions were clear from that point on seeing them put in some electrifying laps to gain two laps on fellow Manx men Bellis and Fenn and a full five laps on the sixth placed team in the results.
Cavendish now travels to France for Paris-Nice in a week's time (March 9-16).
Peter Kennaugh (left) and Mark Cavendish on their way to victory in the Madison National Championship
Swipe to scroll horizontally
MADISON NATIONAL CHAMPIONSHIP: RESULTS
1 Peter Kennaugh/Mark Cavendish (High Road) 25 points +5 laps
2 Jonny Bellis/Andrew Fenn (Isle of Man) 10 points +3 laps
3 Steven Burke/Alex Dowsett (100%ME) 35 points +2 laps
4 Russell Hampton/Mark McNally (Dolan) 12 points +1 lap
5 Chris Whorrall/Dan McLay (Manx Road) 7 points +1 lap
6 Alistair Rutherford/Adam Duggleby (SIS) 9 points
7 Andrew Williams/Sandy King (Cwmcarn Paragon) 7 points
8 Mark Christian/Erick Rowsell (Corridori) 7 points
9 Adam Roberts/Boyd Roberts (Agisko)
Thank you for reading 20 articles this month* Join now for unlimited access
Enjoy your first month for just £1 / $1 / €1
*Read 5 free articles per month without a subscription
Join now for unlimited access
Try first month for just £1 / $1 / €1