CAVENDISH EXTENDS CONTRACT WITH TEAM COLUMBIA UNTIL 2012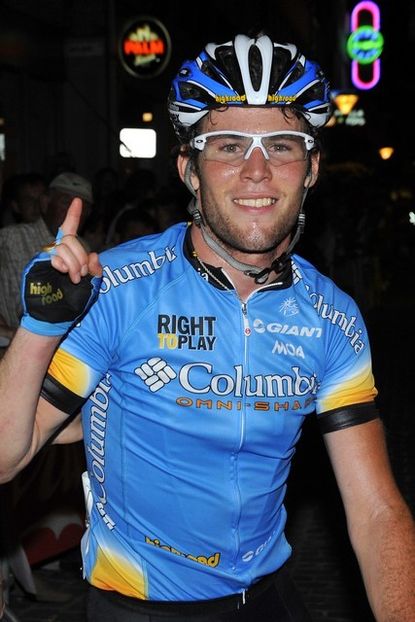 Team Columbia manager Bob Stapleton has revealed to Cycling Weekly that Mark Cavendish will ride for the US-registered team at least until the end of 2011, delaying a possible move to the planned British professional team until 2012.
?He?s signed through to 2011,? Stapleton said as he watched the racing at the World Championships in Varese.
?He?s signed for two years and there?s a option for 2011, meaning he stays with us if we want him. It?s virtually a three-year deal.?
?We don?t build the team around individual athletes, we keep it open to the best talent but Mark?s obviously a top talent. He?s not only a star of the future but he?s a star of today. We think the world of him and wanted to keep him.?
?We wanted to make sure we have him as a long-term member of the team. He?s shown unlimited potential and continued to make rapid progress with Grand Tour performances. We want to stay very focused on that and we can do a better job at that if we all focused on the long term.?
?Mark had to make a decision what was going to meet his long term needs and we?re one of the strongest teams in the world and I think the best to carry him forward with athletic support and getting him what he needs to develop. It makes sense for us, it makes sense for Mark and British Cycling will do whatever makes sense for them.?
COLUMBIA TO FOCUS ON SPRINTS
Stapleton revealed that Team Columbia will be more focused on helping Cavendish in sprints but will also keep many of its existing talented young riders.
?We had to see where people fitted into the team this year after bringing in 14 new riders. There was a lot of top new talent and so we had to see who could do what,? he explained.
?For example, our sprint train really improved during the Giro d?Italia. We brought a lot of those skills into the Tour de France and we want to continue building on that. We?re going to focus more resources and make some roles more clear but the team is still wide open.?
?The team won races with 16 different riders this year, so we?re always going to cultivate that. It probably helps Cav to have guys who can go in breaks and win but also do the work to chase down attacks. Part of the reward for the riders who work hard is that they get chances to win other races. That formula works.?
Stapleton confirmed that sprinter Andre Greipel will stay but admitted that Gerald Ciolek has had a huge offer from Milram and will probably leave, to perhaps battle with Cavendish in the Tour de France sprints in 2009.
Both Bradley Wiggins and Roger Hammond are leaving Team Columbia. Wiggins has joined Garmin, while Hammond is expected to ride for the new Cervelo team.
Thank you for reading 20 articles this month* Join now for unlimited access
Enjoy your first month for just £1 / $1 / €1
*Read 5 free articles per month without a subscription
Join now for unlimited access
Try first month for just £1 / $1 / €1