Chris Boardman backs Alex Dowsett to break the Hour Record
Former holder believes the Movistar rider's preparation will help him surpass Rohan Dennis's benchmark.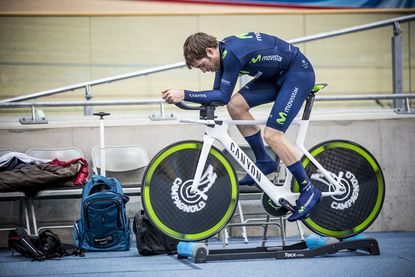 Chris Boardman believes Alex Dowsett's extensive preparations will help the Movistar rider break the Hour Record in Manchester tomorrow afternoon.
Dowsett has Rohan Dennis's benchmark of 52.491km to beat on Saturday, a target that both Thomas Dekker and Gustav Erik Larsson have failed to surpass in recent weeks.
Dowsett has spent extensive time in the drag2zero wind tunnel in Northamptonshire and riding London's Lee Valley Velodrome in both training and racing as part of his Hour build-up, and fomrer record holder Boardman feels that the 26-year-old is well-placed to eclipse Dennis's distance.
"I expect Alex to break it - a discipline like the Hour is almost his core capability," he said.
"I've been in a wind tunnel with Alex before, and he was one of the few riders in the GB setup that we didn't have to do much with to help his position.
"He will understand the demands of the event and he's been doing his homework - that's one of the mistakes [former Hour Record challenger Jack] Bobridge made; he had the engine to break the record, but he did his dress rehearsal on the opening night."
Boardman added that Dowsett's decision to stage his attempt before Bradley Wiggins's scheduled ride on June 7 was a sensible move.
"Alex would have been foolish to wait – I expect Brad to break the record, too," he added.
Thank you for reading 20 articles this month* Join now for unlimited access
Enjoy your first month for just £1 / $1 / €1
*Read 5 free articles per month without a subscription
Join now for unlimited access
Try first month for just £1 / $1 / €1